Ottawa — A procession of World War II era-military vehicles brought back a lot of memories for Blaine Phillips Saturday during the annual Veterans Day parade along Ottawa's Main Street.
"I used to drive a jeep," said Phillips, a World War II veteran from Ottawa.
Military vehicles were joined in the parade by a number of antique and classic cars, tractors, motorcycles, floats, marching soldiers and war re-enactors. The parade featured nearly 130 entrees, organizers said.
"I think it is an excellent parade," Phillips' wife, Tek Phillips, said. "I think it inspired everybody."
Hundreds of people, many of them veterans, watched the parade, and in addition to their own memories, some also thought about the next group of veterans who are now fighting wars in Iraq and Afghanistan.
"I think those guys are going to have it a whole lot worse than we did," said George Miller, of rural Franklin County, a Korean War Army veteran. "I think more about those guys than about us."
David Barrett, a former Army Ranger and Vietnam veteran, said today's warriors also were on his mind, especially Marines and soldiers fighting insurgents in the streets of Falluja, Iraq.
"It's going to be dirty and it's going to be nasty," said Barrett, of Ottawa. "They need to listen to their NCOs (noncommissioned officers) and they'll survive. They also have a lot better equipment now than we had."
A reminder of the cost of war was evident during the parade. Riding in the procession were the families of Ottawa Marine Lance Cpl. Christopher Wasser and Wellsville Army Sgt. Jacob Butler, both of whom were killed in Iraq.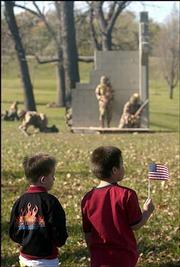 At 11 a.m. the parade halted momentarily for a short ceremony at the Franklin County War Memorial in front of the Franklin County Courthouse. An honor guard conducted a three-gun salute and taps was played.
After the parade attention shifted to Forest Park, where military displays and battle re-enactments took place throughout the afternoon. A Bob Hope-style USO show was performed Saturday night in the Carnegie Cultural Center. Re-enactments will start again today at 11 a.m. in the park.
Jeanie McCloud, 76, walked through the parade crowd Saturday selling flowers. A member of Veterans of Foreign Wars Auxiliary 5901, McCloud has been selling poppies for 38 years during Veterans Day activities.
McCloud said she was thrilled to see the turnout for the parade, which has become a more popular event through recent years.
"I can remember when it was cold, very few people came out to watch, and my hand froze to the flag pole," McCloud said.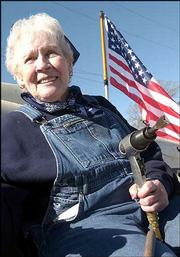 Copyright 2017 The Lawrence Journal-World. All rights reserved. This material may not be published, broadcast, rewritten or redistributed. We strive to uphold our values for every story published.