At times Friday, Free State High's football team slowed Shawnee Mission West's D.J. Barnett.
Once, the referees even stopped the Sunflower League's leading rusher on a holding penalty after Barnett broke what looked like a 50-yard, game-winning touchdown run late in the fourth quarter.
But, really, no one had an answer for the 5-foot-8, 165-pound senior, whose speed and strength overwhelmed the Firebirds (3-7) and brought an end to their late-season playoff run with a 26-20 overtime victory in a Class 6A state playoff game at Haskell Stadium.
"That's a really good football team right there, and Barnett's a big reason why," said Free State coach Bob Lisher, whose team fell to the Vikings (8-2) after Barnett's three unanswered second-half scores.
Lisher said his squad, which started the season 0-5, "played their best football of the season" Friday night, but Barnett might have done the same thing.
He finished with 219 yards on 32 carries (6.8 yards per carry), and his third TD came on a nine-yard sweep after SM West intercepted the Firebirds' first play in overtime.
"He's been unbelievable all season," said SM West coach Tim Callaghan of Barnett, who has rushed for 1,607 yards on the year and 16 scores.
The Firebirds indeed looked sharp in the first half, as both Brian Murphy and Nick Witmer easily moved the ball on the ground. Murphy ran 10 times gaining 87 yards, and Witmer gained 71 yards.
Senior running back Jamie Resseguie got the Firebirds going on a four-yard touchdown run at the end of the first quarter.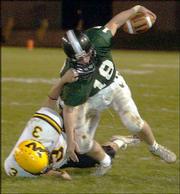 Then it was fullback Damien Dillon's turn on the ground, when the sophomore scored from a yard out near the end of the first half.
Free State outgained the Vikings on the ground, running for 242 yards on 46 carries compared to SM West's 233 yards on 38 attempts.
It looked good, especially since the Vikings routed the Firebirds, 35-14, earlier this season.
"Even though things didn't go our way you can just tell how much we've improved from the first time we played them," Lisher said. "These guys have nothing to hang their heads about."
By the time Brett Lisher hauled in a 27-yard touchdown pass from Witmer midway through the third quarter, the game nearly was Free State's to lose.
Instead, it was Barnett's to win.
The Vikings defense quickly keyed on the seemingly broken plays that gave Witmer big yards in the first half. However, the Firebirds could not do the same with Barnett.
"I think they really started to key on what we were doing with our quarterback play there in the second half," Witmer said. "But Barnett just kept busting big play after big play."
The SM West senior scored on a five-yard run at the end of the third. After a short Free State punt, Barnett tied the game on a six-yard run.
It appeared Barnett would win the game with 1:25 left when he burst through the line and went in untouched for the score. Instead, a holding penalty gave Free State new life.
But as soon as overtime started the Firebirds' luck switched.
Witmer through a 50-50 ball to the end zone that Lisher had his hands wrapped around. Unfortunately for the Firebirds, so too did SM West's Deron Brackson, who came out of the air with the football.
From there the Vikings gave it to Barnett, who was stopped for only a yard. But on the second play there was no stopping him, as Barnett took in the game-winner from nine yards out.
"I know that you guys are teary-eyed and upset right now," Lisher told his huddled team after the game. "I am too, but there is nothing to hang our heads about.
"You guys played with heart all season when other teams would have given up, and you did so again tonight. They're a good team, but so are we. And I can't tell you enough how proud I am of you guys."
Copyright 2018 The Lawrence Journal-World. All rights reserved. This material may not be published, broadcast, rewritten or redistributed. We strive to uphold our values for every story published.