It was hard enough for 84-year-old Lena Overbaugh to lose her husband last year. The last thing she wanted was a hassle with Lawrence Memorial Park Cemetery about his gravesite.
But it took Overbaugh eight months to get cemetery officials to install a small bronze plaque marking the grave -- an extraordinary wait considering how far ahead the couple planned their funerals.
In 1964 -- 39 years before Phil Overbaugh's death last Nov. 6 -- the Overbaughs bought two burial plots and a granite headstone.
The day after his death, Lena Overbaugh went to the cemetery office at 1517 E. 15th St. to finalize his burial arrangements. She was told it would take until February or March to mount the plaque embossed with her husband's name and birth and death years.
February came and went. So did March.
"Memorial Day went by and his name wasn't even there. If people had wanted to put flowers on there, they couldn't have found him," Overbaugh said. "I don't really blame the people in the office here. I think it's the headquarters, wherever they are."
That would be Houston, home to the offices of Mike Graham & Associates. The cemetery management company owns 30 properties across the country, including West Lawn Memorial Gardens in Topeka and Lawrence Memorial Park, which it took over in 2001.
And at least with the Kansas cemeteries, stories like Overbaugh's are not uncommon.
In August, two dozen Lawrence residents complained to the Journal-World about maintenance problems at Memorial Park. Last week, two former employees came forward with allegations that supply problems with grave markers were ignored and the cemetery's absentee owners provided Kansas customers -- and employees -- few avenues for addressing problems.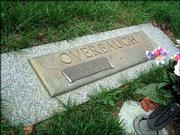 "The complaints are daily," said Peggy Heinsohn, who was a saleswoman at Memorial Park until her job was eliminated last week. "It is all day long. It is nonstop."
Worsening problem
During the past year, she said, problems with obtaining grave markers worsened.
Her husband, Charlie Heinsohn, worked in operations and maintenance for the company until filing a $41,000 lawsuit against Graham in March for failure to pay for services performed.
Terry Roberts, who worked as sales and operations manager for both Kansas cemeteries for a year until hurting her knee in April, said she had never in her 16 years in the cemetery business encountered such problems.
"At other places I've worked, I could get a headstone in four weeks -- guaranteed, set, no problem," she said. "There were problems with it when I got there (Graham & Associates), but it just got progressively worse over time. It was like a nightmare."
Those having difficulties getting merchandise from Lawrence Memorial Park Cemetery should contact the following:¢ Randall Davis, regional manager, Mike Graham and Associates: (501) 309-4755.¢ Mike Graham & Associates head offices, Houston: (866) 840-8081.¢ Better Business Bureau of Northeast Kansas: (785) 232-0454.¢ Kansas Attorney General's Consumer Protection Division: (785) 296-3751 or (800) 432-2310.
In Overbaugh's case, daughter Bettie Diehl finally threatened to complain to the Kansas Attorney General's Office. Only then, eight months after her father's death, was the plaque delivered and affixed to the granite headstone.
Both Roberts and Peggy Heinsohn said lack of financial control at the local level and lack of communication with the head office made it difficult for employees at the two cemeteries to help customers who complained.
How it happens
According to Roberts and Heinsohn, local employees take payments for grave markers and deposit them in a company account. Then, the marker is ordered from a vendor, which sends an invoice back to the local cemetery office. That invoice goes to a Graham & Associates accounting office in Alabama or Georgia, where checks are supposed to be cut to the vendor, which would then deliver the marker.
"The families would pay for them before they would even be ordered," Roberts said. "We were collecting up-front for the markers, but then the money that they were giving us wasn't being used to pay the vendor. They were using the money for who knows what, but they were not being used to pay the vendor to release the product."
Randall Davis, the Graham & Associates regional manager whose district includes the Kansas cemeteries, declined to comment. Several calls to company headquarters in Houston were not returned.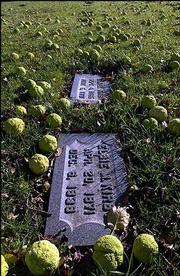 Joanne Vorpahl, an attorney who represents Graham & Associates, said the company "denied all of the allegations" and that customers having problems getting grave markers they had paid for should contact company officials -- a task some cemetery customers said was more difficult than it sounded.
Other cases
Theresa Foster and her grandfather, Glen Tucker, still are waiting for even a temporary marker to be installed on the West Lawn grave of Tucker's wife, Iris, who died in March.
"I always seem to get a message machine when I call," Foster said. "They are very hard to get in touch with."
Foster, who lives in Topeka, brought Tucker from Sabetha to visit Iris' grave on the Fourth of July. They found the grave unmarked four months after her death.
"The marker had been paid for, and we were told it would be about two months before it would be there," Foster said. "But when we went to look, there was nothing. I remembered who she was buried next to, but that's the only way I knew where the plot was. My grandfather couldn't even find the grave and he wanted to pay his respects. He misses her."
Foster called the West Lawn office and was told a temporary marker would be installed right away. But the grave remains unmarked, she said.
Vorpahl, the Graham & Associates attorney, said Davis, the regional manager, intended to look into the situation with Iris Tucker's marker when he visited the Lawrence area next week.
'An alarming delay'
Sylvan Coles said he experienced similar delays at West Lawn after his wife, Shirley, died in May 2003. He was told it would take two or three months to get a grave marker. When the deadline came and went, he asked what the holdup was. The answer: a mix-up in ordering.
"It was an alarming delay," Coles said. "Those are tough times for anybody; they were tough for me. I wanted to honor my wife. Something is promised at a certain time, I expect it to be delivered at that time."
The grave marker situation may be the most recent problem at the cemeteries, but it isn't the first. In August, the Journal-World found unkempt grounds at Memorial Park, where roughly 5,000 people are buried. The grass, unhappy customers said, was rarely mowed. When it was, grass clippings would be left scattered on grave markers.
In response to a Journal-World story on the situation, the Kansas Secretary of State's Office conducted an audit of the cemetery's perpetual maintenance fund. State law requires that 15 percent or a minimum of $25 per plot be deposited into a fund by cemetery companies to assure money for upkeep.
Trouble found
After completing the audit, the Secretary of State's Office concluded the Memorial Park maintenance fund was underfunded and informed the company it had until mid-December to clean up its books or face legal action by the state.
Both the maintenance and the marker problems, Roberts and Peggy Heinsohn said, stemmed from lack of attention by the head office in Houston.
"They weren't involved," Roberts said. "They were very interested in revenues coming in, but they weren't interested in aesthetics. They weren't interested in the day-to-day problems."
But employees such as Roberts and Heinsohn heard about the day-to-day problems all the time.
"We had people coming up ranting and raving and screaming at me because of headstones, and my hands were tied," Roberts said. "There was nothing I could do about it."
What to do
Jan Lunsford, a spokeswoman for the Kansas Attorney General's Office, said the best remedy for customers who had not received grave markers was to file a complaint with their local Better Business Bureau, or contact the consumer protection division of the attorney general's office.
Lunsford said no customer complaints had been filed recently against the Graham & Associates properties, a fact that didn't surprise Heinsohn.
She said she had been instructed by the head office to keep them abreast of customers who threatened to take a complaint to authorities.
"They'd tell me to let them know about the people who were getting really irate, and they would order theirs in," she said. "It's the people who really seem to raise a ruckus -- it gets to be a battle like that, those people seem to get their markers."
But, Heinsohn said, no customer should be made to go through such a hassle while trying to deal with the loss of a loved one.
"It's not fair to these people," she said.
Copyright 2017 The Lawrence Journal-World. All rights reserved. This material may not be published, broadcast, rewritten or redistributed. We strive to uphold our values for every story published.