Washington — President Bush calls it a "great Washington sport," the speculation about who will be in his second-term Cabinet, but even he says there will be new faces sitting around the polished mahogany table in the West Wing.
The first face to be replaced could be that of Atty. Gen. John Ashcroft, who might leave even before the second term begins, senior aides said Thursday. Others expected to leave -- although maybe not immediately -- include Secretary of State Colin Powell, Health and Human Services Secretary Tommy Thompson and Transportation Secretary Norman Mineta.
"In the Cabinet, there will be some changes," said Bush, who says he's made no decisions yet and will ponder personnel changes this weekend at Camp David. "I don't know who they will be. It's inevitable there will be changes."
Ashcroft, 62, is described as exhausted from leading the Justice Department in fighting the domestic war on terrorism since the Sept. 11, 2001, attacks. Stress was a factor in Ashcroft's health problems earlier this year, which resulted in removal of his gall bladder.
But Ashcroft, a favorite of religious conservatives, was "energized" by the results of Tuesday's election, in which polls indicated that moral values were a dominant issue for Republican voters, one aide said.
Aides, who spoke only on condition of anonymity, cautioned that Ashcroft hasn't submitted his formal resignation and said that if Bush asked him to he might remain for a while.
Speculation now begins as to who his likely successor will be.
A leading contender is thought to be his former deputy, Larry Thompson, who would become the nation's first black attorney general. Thompson ran the Justice Department's corporate-fraud task force.
Other names in the mix are former Montana Gov. Marc Racicot, the chairman of Bush's re-election campaign, and White House counsel Alberto Gonzalez, although he's mentioned more frequently to fill a possible vacancy at the Supreme Court.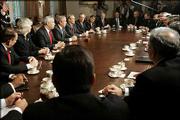 Secretary of State Colin Powell, dubbed the dove among hawks in the Bush administration, was expected to be the first out the door, but he recently signaled he might stay a while if Bush asked. Possible Powell replacements include John Danforth, a former Republican senator from Missouri who is now U.S. ambassador to the United Nations; Sam Nunn, a former Democratic senator from Georgia who once headed the Armed Services Committee; and John Bolton, undersecretary of state.
National security adviser Condoleezza Rice, who has talked about returning to academic life in California, also has been mentioned as a possible replacement for Powell. She has told associates that she won't be at the same post in a second term, portraying it as a burnout job, but she's close to Bush and he might persuade her to stay on, possibly at state or defense.
If she leaves, her shoes might be filled by Steve Hadley, deputy national security adviser, or Robert Blackwill, the National Security Council's point man on Iraq.
Copyright 2018 The Lawrence Journal-World. All rights reserved. This material may not be published, broadcast, rewritten or redistributed. We strive to uphold our values for every story published.