The gray, wet weather matched Kathy Greenlee's mood Wednesday.
After a year of hard campaign work that included a trip to the Democratic National Convention, Greenlee -- a Lawrence resident and local party activist -- was left to cope with Sen. John Kerry's loss to President Bush in the presidential election.
"I'm sad," Greenlee said, later adding: "I wish the sun had come out today."
Local Republicans were more ebullient, though another late-night rock through the window of their Lawrence campaign headquarters dampened the mood somewhat. But even the party of presidential victory was tuckered out from months of campaigning.
"I've always found that a good bottle of scotch is good in that regard, preferably something with a name you can't pronounce that's about 15 years old," said Chris Miller, chairman of the Douglas County GOP. "But I'll probably just go to sleep."
The range of emotions is understandable, a Lawrence mental health professional said Wednesday. This year's campaign has been so intense and adrenaline-filled that partisans on both sides could face some postelection blues.
"There's been such anticipation, such expectation and hope and fear and all of those things, that I think you'll see a general decline," said Tom Bates, who oversees adult outpatient services at Bert Nash Community Mental Health Center, "probably even a depression for some people, kind of the after-excitement let-down."
Though Kansas went overwhelmingly for Bush, Douglas County was an oasis of votes for Kerry: He received 27,282 votes here, easily outpacing 19,923 ballots taken by Bush.
Dustin Kinsey was one of those Kerry supporters. Wednesday, he sat dejected at the Bourgeois Pig, 6 E. Ninth St, while it rained outside.
"The cosmos reflects our feelings inside," he said. "We're very defeated, for sure."
But Elizabeth Scheib, walking downtown, felt differently, saying the Bush win was a victory for moral values.
"I'm thrilled, I'm really happy," she said. "I feel like I'm a minority, because I'm a conservative Republican living in a liberal Democratic (town), obviously, from the results."
And from the actions. Overnight Tuesday, someone tossed a rock through the window of county Republican headquarters near 10th and Kentucky streets -- the second such incident in a week.
"There wasn't a message this time," Miller said. "Well, there was a message, but it wasn't written out."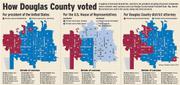 He said he was grateful for Bush's victory, but concerned about local races -- in the Legislature and for Douglas County administrative posts -- where Democrats made a strong showing.
"I think the state Democratic Party targeted this area for that sort of activity," Miller said. "I don't know that, but it seemed that way."
Greenlee said a lot of hard work went into campaigning for local, state and national offices in Douglas County -- aided by the summertime visit of vice presidential candidate John Edwards to Lawrence.
"You have to, at some point, overcome the day-after disappointment and look to the future of the (Democratic) Party," she said. "We helped the future of the party."
-- 6News reporter Brooke Wehner contributed to this report.
Copyright 2018 The Lawrence Journal-World. All rights reserved. This material may not be published, broadcast, rewritten or redistributed. We strive to uphold our values for every story published.