To reduce overcrowding at Hillcrest School, school officials plan in fall 2006 to begin sending some students who speak English as a second language to Cordley School.
A school district committee has chosen Cordley as Lawrence's second elementary school site for children who speak English as a second language.
"We need ... a second school to absorb some of those students," said Janice Nicklaus, executive director of educational programming for Lawrence public schools.
Hillcrest, 1045 Hilltop Drive, is the district's only elementary school that serves English-language learners. It is overcrowded.
More than half the school's approximately 400 students are learning English. The school's capacity is about 320 students.
District officials don't know yet how many English-language learners will attend Cordley, 1837 Vt., or how much such an expansion will cost.
Hillcrest Principal Tammy Becker said she was pleased the district was considering a second site for the program.
Hillcrest has about 120 more English-language learners than it did in 1998-1999.
Cordley, with less than 200 students, is one of the district's smallest schools. It has room for about 300 students.
Cordley Principal Kim Bodensteiner said it was her understanding that all 20 to 25 of Cordley's teachers would be trained to instruct English-language learners. Bodensteiner also will be trained.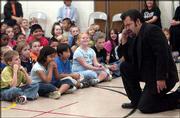 "The opportunity to learn about different countries, different customs, different cultures is going to be a tremendous benefit to our students," Bodensteiner said
She said the school might get some bilingual paraeducators.
Nearly all of Hillcrest's English-language learners are mixed in classes with regular students.
At Hillcrest, 12 students -- mostly first and second-graders -- attend a program for children who speak no English. The other English-language learners are in regular classrooms with students who speak English well.
All Hillcrest, teachers have been trained or are in training to teach English-language learners, Becker said. The training can take about 15 hours of college classes.
The district plans a meeting for Cordley parents at 7 p.m. Wednesday at the school to discuss the changes.
Copyright 2018 The Lawrence Journal-World. All rights reserved. This material may not be published, broadcast, rewritten or redistributed. We strive to uphold our values for every story published.