Sang-Hyun Park was the hands-down choice to be valedictorian of the Bishop Seabury Academy Class of 2004.
That's what happens when you're the only senior at your school.
Today, Park will deliver the graduation address at Bishop Seabury's annual student recognition ceremony and will start life as a Seahawk graduate.
"I'll have my class reunion every day," he quipped.
Park -- who goes by "Andy" in the United States -- grew up in South Korea and has spent three years as an exchange student in America.
After a year at a school in Oswego, N.Y., Park chose to attend Bishop Seabury after reading about it in an exchange student catalog. School administrators arranged for him to stay with Lawrence resident Wilma Wake, who has a daughter attending Bishop Seabury.
Park said he preferred smaller schools, and Bishop Seabury's enrollment for seventh through 12th grades is 114 this year.
"I was able to get a better education in the U.S.," he said. "It's a different study system. In the U.S., we discuss things. In Korea, we just put stuff in our heads."
As a junior, he took classes with last year's seniors. This year, as a senior, he's mainly taken classes with juniors. He played basketball and soccer and ran on the cross-country team.
When it came time for class competitions -- such as collecting canned goods for a local food pantry -- Park joined with another class.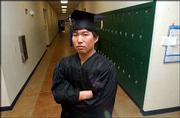 "There's no way of beating the others," he said.
Class of one
Headmaster Chris Carter said there were four sophomores at the school at the end of the 2001-2002 year, and each decided to transfer to public schools. They would have been seniors this year with Park.
"We talked about the fact he would have no true classmates" when Park first came to Lawrence, Carter said. "In some ways we thought it might be easier for an international student who didn't have any preconceptions about what American schools would be like. Fortunately, he's a really easygoing, adaptable kid."
This is Bishop Seabury's seventh year of operation, and its third graduating class. Two years ago, one student completed 12th grade. Last year -- the first year for students to complete all six grades at the school -- saw a graduating class of 11.
Next year, if all juniors stay, there will be 22 seniors.
This is the first graduation ceremony in the school's new location. It moved from the former Kaw Valley School five miles east of Lawrence to the remodeled Alvamar Racquet and Swim Club, 4120 Clinton Parkway, for this school year.
New traditions
As in the past two years, graduation will be part of the school's "stepping-up ceremony," in which each class is recognized for moving up a grade. If graduation classes increase in number -- Carter is hoping for 20 to 30 seniors each year -- Bishop Seabury may opt to move commencement to an evening ceremony.
"It's important for us to adhere to the traditions we have," Carter said. "But we know we're still growing and things will change."
Park admits he'll be nervous being the center of attention today.
He plans to attend the University of Illinois next year and major in computer science, engineering or math.
Park said he didn't think there were major drawbacks to being the only student in his class. It just prodded him to meet students in other grades.
"Because the school is small -- there's not many people -- it's easy to know everybody here," he said. "I don't have any regrets."
Copyright 2018 The Lawrence Journal-World. All rights reserved. This material may not be published, broadcast, rewritten or redistributed. We strive to uphold our values for every story published.