Dan Marso was the focus of attention among Kansas University School of Journalism graduates Sunday, and he wasn't even earning a degree.
Marso is the younger brother of Andy Marso, the journalism major who has been hospitalized with bacterial meningitis since late April. Dan Marso walked in the commencement procession, wearing a gown that had photos of Andy taped on the front and back.
"I'm just here to represent him," Dan Marso said. "It's a really big honor for me. Not many people would have the opportunity to do something like this. I really can't comprehend what this day means. I'll probably reflect back years later on how important this is."
Dan Marso, 19, is a business major at St. Cloud State University in St. Cloud, Minn. He said his brother was finally "on the road to recovery" at the University of Kansas Hospital in Kansas City, Kan. No time frame has been set for his discharge.
"He's doing well," Dan Marso said. "It's been a roller coaster, with lots of ups and downs. There's no day-by-day or hour-by-hour worry now. He has a set plan for recovery, which is a big relief to everybody."
Chancellor Robert Hemenway mentioned Andy Marso in his commencement address.
"You are in everyone's thoughts and prayers," he said. "We're glad that your brother Dan can walk for you today, but get well soon so I can put your diploma in your hands."
¢¢¢
Dorothy Resco had more gray hair and wrinkles than your typical college graduate.
Resco, who said only that she's over 65 and "too old to know any better," received a bachelor's degree in human development and family life, with an emphasis in gerontology. Resco plans to work for Douglas County Senior Services after graduation.
A former employee in the KU housing department and the Tonganoxie school district, she already had two degrees from Kansas City, Kan., Community College.
But she wanted a four-year degree. She said during her three years at KU, she always retook classes if she wasn't satisfied with the grade.
"I never settled for a C," she said. "I wanted to learn the information."
Her favorite class? Human Sexuality in Everyday Life, the controversial course taught by Dennis Dailey.
"He's fantastic," she said.
¢¢¢
Zack Hemenway got a sneak peak at Sunday's commencement speech before the event. That's a perk when you're the chancellor's son.
Zack knew he would be mentioned in his father's address but swears he didn't edit out any embarrassing information.
"It's embarrassing in itself," he said with a laugh.
The younger Hemenway attended a semester at the University of North Carolina before finishing a journalism degree at KU. He'll attend law school at the University of Nebraska in the fall.
"I know that it has not been easy to be the chancellor's son," Chancellor Robert Hemenway said in his speech. "All those lame jokes in the convocation speeches, all those questions: 'WHO is your father?' You've defended your dad often, even when he was wrong, or maybe you didn't and I just never found out."
He added: "Your mom and I love you."
Zack Hemenway said he was proud of the way his father handled commencement every year.
"He does a great job with his speech," he said. "He's probably posed for 500 pictures so far today."
He said life wasn't that much different being a chancellor's child.
"It never was a problem or a help for me," he said. "More people probably knew who I was because of it. It just kind of made things a little different. When people said (negative) things about him and didn't know he was my dad, it was balanced out by going to a great university and being close to my family."
¢¢¢
Graduation was a family affair for Amber Reagan-Kendrick and her daughter, Jehan Reagan.
Reagan-Kendrick earned a Ph.D. in American studies, while Reagan received a bachelor's degree in nursing. They walked hand in hand down Campanile Hill.
"It's probably one of the most exciting moments of my life," Reagan-Kendrick said. "I never thought I'd get a Ph.D., and I get to share it with my daughter."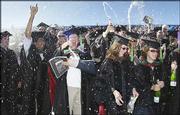 Reagan added: "I'm excited. At least I don't have to walk by myself."
-- Staff writer Jennifer Byrd contributed information to this report.
Copyright 2018 The Lawrence Journal-World. All rights reserved. This material may not be published, broadcast, rewritten or redistributed. We strive to uphold our values for every story published.