For members of the recently formed Kansas Whitewater Assn., it's important to clean up where you play.
That's why Saturday morning, the group co-sponsored and turned out for a cleanup of the north bank of the Kansas River in Lawrence.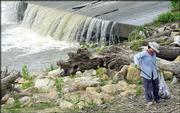 "We kayak here almost every weekend," said Shawn Tolivar, president of the association. "We like it and want to take care of it."
About 15 volunteers picked up trash and debris along the riverbank in the morning. In the afternoon, the volunteers did some boating.
Lawrence artist Lisa Grossman also participated. Her art focuses on the Kas, and she has a show opening June 1 at the Lawrence Arts Center.
"I came here because I've learned a lot about the Kansas River over the past several months and I want to take care of it," Grossman said. "This is a good, hands-on way to experience the river and to help out a little bit."
The cleanup was co-sponsored by the whitewater group, Wakarusa Group of the Kansas Sierra Club and Bowersock Mills & Power Co. It was part of National River Clean-up Week, which ended Saturday.
Copyright 2018 The Lawrence Journal-World. All rights reserved. This material may not be published, broadcast, rewritten or redistributed. We strive to uphold our values for every story published.