Don't look away when it's Nathaniel Spencer's turn to hit. You just might miss it.
The Lawrence High senior golfer has a distinct ritual before each of his shots, and it takes all of 20 seconds to perform. He finds his ball (usually 300 yards away from the teebox in the middle of the fairway). He grabs the proper club. He takes a quick glance at the pin. He glances at the ball. He takes a quick practice swing. He shuffles his feet forward. He rests the club behind the ball, then unleashes a smooth swing, usually sticking the ball about 10 feet away from the hole, as if he's throwing a Titelist dart at a green board.
Spencer is a straight shooter, and it seems to be rubbing off. Just ask his coach, Ron Commons, where Spencer ranks in Lawrence High golf history. You'll get a response as straightforward as one of Spencer's titanic drives.
"At this point, I think we classify him as the best player to come through Lawrence," Commons said. "We've had some individual state medalists come through here in the past, so I think that speaks pretty highly of him."
Spencer's final high school postseason is upon him, when both Lawrence High and Free State take part in the Class 6A regional tournament starting at 9 this morning at Heritage Golf Club in Olathe.
Spencer has reached many of his goals this year, but two remain, ready to be conquered: a win today in regionals, and a win next week at Topeka Country Club, where the state champion will be crowned.
Don't put either task past him. This is a guy who, more often than not, fires scores well under par. And, in his only other visit to Topeka CC earlier this year, was the lone golfer in a 22-team field to break even at the Topeka West Invitational.
Spencer isn't perfect. He hasn't won every tournament he's played in.
Just most of them.
"High school golfers have a lot of trouble with consistency," LHS teammate Daniel Brumley said. "But he hits the ball in the fairway every single time. He hits it out there about 290, 295. And as good as he is with irons, he sticks it in there and makes putts.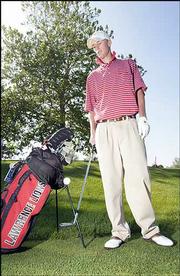 "That's what makes him -- consistency."
Boot camp
Spencer wasn't on the Kansas high school golf radar a year ago. He was at the sun-soaked golf courses of Florida, in a structured environment where golf is the central idea.
No distractions, no other hobbies ... just practice, practice, practice.
Spencer enrolled in the David Leadbetter Golf Academy in Bradenton, Fla., for his entire junior year of high school. His schedule was strict, and his year at the academy required complete dedication. He had classes in the morning, then lunch, then about five hours of technical work, swing renovation, mental conditioning and physical conditioning all designed to make him an elite golfer.
Dinner came at 6:30 p.m. Homework during study hall was from 7:30 to 9:30 p.m. Lights went out at 10 every night but Saturday.
Spencer insists he had no qualms with the strict schedule. He came back to LHS after just one year in Florida, though, to enjoy his last year of high school and be with his friends in Lawrence. But the Leadbetter Academy had made its mark on his already solid golf game.
"I never really had an actual coach that coached me," Spencer said. "I had some great teachers once or twice for little checkups, but nothing as much as that.
"I used to have a homemade swing. Down there, they made it a lot more compact."
His accuracy remained after his swing was fixed, but his distance improved noticeably, according to Commons. He usually mashes it farther than anyone he plays against, and with the competition stacked in eastern Kansas, that's quite a feat.
But the reason his scores are so low this year, Commons said, has little to do with how far he hits it. It's because of how accurate he putts it.
"I've seen him make an awful lot of birdie and par putts from 15-20 feet away," Commons said. "That's been the difference."
'Stellar' season
More often than not, Spencer dips below the number -- unreachable to most -- known simply as "par."
He took second at the Lawrence High Invitational on Wednesday at Alvamar with a 2-under 70. He won the Topeka West Invitational with a 1-under 70. He shot a 2-under 68 at the Leavenworth Invitational, helping give him the Sunflower League individual title.
"He's stellar," Brumley said. "He's playing great golf, and he's helped our team tremendously throughout the year."
Spencer's best, though, was a lot better than 1- or 2-under.
At the Junction City Invitational on May 6, Spencer had an incredible 18-hole round. He fired a 7-under 65, with no bogies, seven birdies and 11 pars.
"That's a great score," Commons said. "That course has hosted the state tournament before, so it's a quality track."
That round, believed to be the lowest round in Lawrence High history, saw Spencer birdie the first two holes and sink three more birdie putts before finishing the front nine. He was 5-under after nine holes.
He then birdied Nos. 10 and 13 to give him his 7-under. His last five holes all were pars, but only two of those five left Spencer without a sour taste in his mouth.
"I missed three birdie putts," Spencer said. "They were all lip-outs after the 13th hole.
"I was in that mode where I was really wanting to go really low. Seven under is really low, but I wanted to go much lower."
Straight shooter
Spencer makes quick work of some tough holes around the state, shooting fewer strokes at a much swifter pace than most.
It's not a bad way to do it, so long as he's comfortable with being quick.
"I just don't like to fool around," Spencer said. "I know my swing, and I know what I need to do. It doesn't really take me too long to make up my mind."
His future is a different story. College golf definitely is an option, with several programs asking him to come play, but Spencer is keeping every avenue open. Because of that, he won't even lean in any one direction.
For now, Spencer has high school golf to take care of. The two city schools will join Olathe South, Olathe East, Olathe North, Overland Park Aquinas, Leavenworth and Topeka at the Class 6A regional meet today. The top three teams and top five individuals not on a qualifying team will go to state May 24.
Spencer has goals in mind for his finals days as a high school golfer. He'll let you in on them, too. It's in his straight-shooting demeanor.
"To win regionals and to win state," Spencer says with a smile. "That's what I really want to do."
Copyright 2018 The Lawrence Journal-World. All rights reserved. This material may not be published, broadcast, rewritten or redistributed. We strive to uphold our values for every story published.