Dialing 911 from a wireless phone in Douglas County soon could communicate more than just a voice.
Simply punching in the numbers automatically would transmit a vital piece of data -- the caller's actual location -- to emergency dispatchers, who no longer would have to rely on someone in distress to direct emergency personnel to the scene of an accident, attack or other emergency.
And Jim Denney can't wait.
"National studies show that it can be life-saving in one of 1,000 calls to 911," said Denney, Douglas County's director of emergency communications. "One in a thousand sounds like a small number, but when you consider that we're talking about receiving 20,000 to 25,000 (wireless) calls a year, that's 20 to 25 times a year that it could be a life-saving matter."
Denney figures the county's upgraded system could be up and running within three months to a year, depending on how county officials want to approach the process. Joining the Kansas City area's Mid-America Regional Council probably would be the fastest way to get the county connected, he said, but investing in a county system would give local officials optimum control.
Either way, Douglas County commissioners are pleased to be moving ahead.
For years, commissioners have been lobbying the Kansas Legislature to implement a fee on wireless phones to finance 911 services. After six years of discussions at the state level, lawmakers finally approved a fee this year.
Beginning July 1, owners of wireless phones will pay 50 cents a month to establish and improve "E-911" services for wireless phones. Counties will use the money to buy dispatch equipment capable of receiving detailed data from wireless callers, so dispatchers will immediately know the names of callers and their locations.
Proceeds from the fees will be split into two funds: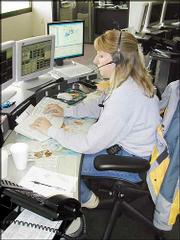 Half will finance grants available to all but the state's five largest counties, including Douglas, to pay for one-time equipment upgrades.
Half will be used by all counties to finance E-911 equipment and operations.
Statewide, the wireless industry expects the fees to generate $7.2 million a year. Of that total, Denney said, the county could expect to receive about $133,000 a year for wireless E-911.
While the fees would be assessed beginning July 1, counties won't start receiving payments until late summer or early fall, Denney said.
Commissioners long have wanted to start an enhanced system for taking 911 calls from wireless phones.
Nearly half of all calls into Douglas County's dispatch center come from wireless phones.
And the center's operations are financed with proceeds from a 75-cent monthly fee assessed on owners of landline phones, who have been connected to E-911 services since 1993.
County commissioners are scheduled today to discuss options for the extension of E-911 services to wireless phones:
Joining the Mid-America regional Council's 911 program, a network of 47 dispatch centers in eight counties, including Johnson, Wyandotte and Leavenworth in Kansas. Such a move could cost the county $275,000 up front, Denney said, plus an additional $110,000 to $150,000 a year for operations.
Establishing a county system. Such a move likely would cost $40,000 to start, plus an additional $13,000 for repairs and upgrades to go along with an expected $110,000 in annual operating costs.
The commission meeting is scheduled for 8 a.m. at the County Courthouse, 1100 Mass.
Copyright 2018 The Lawrence Journal-World. All rights reserved. This material may not be published, broadcast, rewritten or redistributed. We strive to uphold our values for every story published.