PERRY LAKE — In a nest high in a tree near Perry Lake, two 4-week-old male bald eagles are now wearing silver and purple metal leg bands.
Saturday afternoon, a professional tree climber made his way up to the nest, 70 feet off the ground, and carefully placed the birds in cloth bags to be lowered to the ground.
About 30 people, many of them from the Jayhawk Audubon Society, gathered along a nearby dirt road to watch the banding operation. Lawn chairs, cameras and binoculars were standard equipment for the outing.
"Not too many people get do this," said Patricia Greeve, of Valley Falls, an Audubon Society member. "Most of the population has to see this on TV, not up close and personal."
Greeve watched the event with her husband, Rocky Greeve, and their 5-year-old daughter, Jessica.
"This is something I wanted our daughter to be able to see," Rocky Greeve said.
The birds became the 92nd and 93rd bald eagles to be banded in Kansas since 1989, according to Mike Watkins, a wildlife biologist with the U.S. Army Corps of Engineers. He was assisted in the banding operation by his wife, Bunnie Watkins, corps lake ranger, and John Miesner, environmental contaminant specialist with the U.S. Fish and Wildlife Service.
Mike Watkins and Miesner brought the eagles from the tree across a field on private property up to the roadside so onlookers could watch. Miesner held the eagles one at a time while Mike Watkins measured their beaks, talons and feet.
The banding is conducted on young eagles for research and tracking purposes, Mike Watkins said.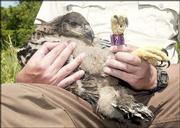 The eagles, alarmed at first, sat quietly as Miesner held them.
"We can tell whether they are males or females and whether they are healthy," Mike Watkins said. "You see pretty much the same birds at Perry. We know that from the markers."
In fact, the baby eagles' father and his brother were the first two eagles to be banded in Kansas after they were born in 1989 in a nest at Clinton Lake, Mike Watkins said. Wildlife specialists can generally read the numbers on the purple bands by looking through a scope, he said.
Father and mother flew overhead, occasionally squawking, as they kept a close eye on what was going on at their nest. They did not try to attack the tree climber, Joel Brinker, of Brinker Tree Service in Manhattan.
"They are great fliers, but they are not good at swooping down and attacking someone at their nest," Miesner said. "They'll be buzzing around."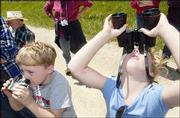 Brinker and a few other tree climbers work as volunteers with Fish and Wildlife in assisting with the banding. When the process was completed, Brinker placed the birds back in their nest.
Ed Shaw, 76, and his wife Cynthia Shaw, 68, were enthralled with the eagles.
"Just to see this procedure was fascinating for me," Ed Shaw said. "The eagles are making a comeback, but there are an awful lot of habitats for the eagles that are disappearing."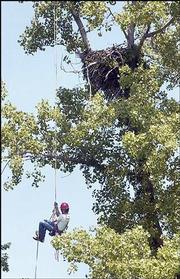 Copyright 2018 The Lawrence Journal-World. All rights reserved. This material may not be published, broadcast, rewritten or redistributed. We strive to uphold our values for every story published.