Ottawa — Franklin County wants to make sure its military war veterans never die in vain.
Saturday at least 200 people, many of them carrying American flags, gathered at the veterans memorial on the lawn of the Franklin County Courthouse to show their support for those fighting and dying in Iraq and Afghanistan.
They also paid tribute to soldiers and Marines from the eastern Kansas area who, during the past year, have been killed in action.
"They did not die in vain if we acknowledge the fact that they sacrificed and what this sacrifice means," said Scott Wasser, the father of Lance Cpl. Christopher Wasser, an Ottawa Marine killed in Iraq last month.
In front of the memorial, taped to folding chairs, were the pictures of the fallen troops, including Army Sgt. Jacob Butler, Wellsville; Wasser, Ottawa; Army Sgt. Don Walters, of Kansas City, Mo.; Army Pvt. Dustin Kreider, Riverton; and Army Spc. Kyle Thomas, Topeka.
Last October, Wellsville resident James Butler traveled to As Samawah, in Iraq, to see where his son, Jacob Butler, was killed in April 2003. He was greeted by smiling and waving Iraqis, and then he knew why his son made the ultimate sacrifice.
"Jake gave his life so that people over there could have the freedom that we have in the United States," James Butler said. "Even if they have it for only a short period of time it will not have been in vain."
'Keep the fires burning'
Scott Wasser and James Butler were among the speakers during the rally.
"We need to support our troops," James Butler said. "We need to stay in Iraq and finish what we started."
Christopher Wasser would be proud and pleased at the support Franklin Countians were showing, Scott Wasser said.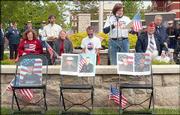 Americans can show their support in many ways, including corresponding regularly with military personnel and sending hometown newspapers as well as care packages containing everyday necessities, Scott Wasser said.
"We must provide them with the knowledge that we are there, and that we will support them and care for them, and that we are going to keep the fires burning for them," he said.
Scott Wasser also urged the crowd to participate in determining their country's future by voting in elections.
"We need to pay attention to what is going on in our country," he said.
'Final salute'
Melissa Meinzer, of Kansas City, Kan., served in the Army as a mortuary affairs specialist and helped prepare Jacob Butler's body and personal belongings to be sent home. She also talked about her unit giving a final salute to the cases containing bodies as they were loaded aboard planes flying back to the United States.
"They deserve that final salute and a million more," Meinzer said. "As a group our prayers will travel across all oceans and reach all of our soldiers."
Roger LaRue, a Vietnam veteran and retired Olathe Police detective, noted the importance of showing support for the troops and how much the lack of that public support hurt the veterans of his war.
"I have had a lot of time to reflect on my time in Vietnam, and I don't regret it," he said.
Roy Dunn, of Ottawa, a member of the Franklin County Chapter of Vietnam Veterans of America, knew what LaRue was talking about.
"One of the reasons we do this is to keep the troops in the public eye," Dunn said of the rally.
Shirley Osladil, also of Ottawa, said the ceremony was very respectable and appropriate.
"You hope that no one has to make the ultimate sacrifice, but we are proud when they do it," Osladil said.
Sometime early this week the names of Christopher Wasser and Jacob Butler will be etched in Franklin County's granite memorial. Also to be added will be the name of Army veteran David Kitchen, who was killed in Vietnam.
Kitchen was born in Ottawa and is buried there, said Harvey Nicholson, a member of the memorial committee. Kitchen was initially overlooked because he moved to Wamego before going into the Marines and being sent to Vietnam.
Copyright 2018 The Lawrence Journal-World. All rights reserved. This material may not be published, broadcast, rewritten or redistributed. We strive to uphold our values for every story published.