Olathe — It was hardly the way Lawrence High's girls basketball team wanted to go out. But sometimes great opponents don't give you much of a choice.
LHS saw its season end one game short of the state tournament, falling hard to Overland Park Aquinas, 59-28, Friday in the Class 6A sub-state final at Olathe South.
Lawrence's roller-coaster season ended with a 14-8 record.
Its five-game winning streak ended, and the same team that gave the Lions their first loss of the season on Dec. 4 gave them their final defeat.
Aquinas (21-1) advanced to state for the 10th straight year.
"They were running their offense good and playing good defense," LHS junior forward Megan Klingler said. "There's not much you can do with a team that good."
Klingler led the Lions with 15 points, including two three-pointers. Fellow forward Cherrale Ricks added 11 points and 10 rebounds.
Besides those two, only senior Jodie Cochrane managed to score Friday, hitting a jumper with her foot on the three-point line in the second quarter.
"They took us out of our game with the defensive pressure they put on us," LHS coach Kristin Mallory said. "We knew it was coming, and we still couldn't handle it."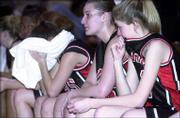 Lawrence's game plan was to pound the ball inside to Ricks and Klingler, the heart of the offense. Aquinas quickly caught on, adjusted and shut down the passing lanes. With little else working for them, the Lions tried to force it inside anyway, leading to numerous turnovers.
"We couldn't get it anywhere near the post," Mallory said. "That was excellent defense on their part."
Aquinas seemingly always capitalized on the steals, getting 27 points inside from Kansas State signee Carolyn McCullough and 20 outside from sophomore guard Lindsay Ballweg.
Ballweg had 14 of her points in the first half, including three three-pointers. Her hot shooting forced LHS out of its zone defense, which made things even worse.
Lawrence stuck around for much of the first half, but Aquinas outscored the Lions 28-9 in the second half, including an 18-2 advantage in the fourth quarter.
"We couldn't stop them tonight," Mallory said. "They were on fire from the beginning."
It was an emotional end to the careers of Lawrence's three seniors. Ricks, Cochrane and Erin Knight played their last game for Lawrence. The three starters combined to give the Lions about half of their offensive output this season.
Ricks led LHS with 12.6 points per game.
"I think they exceeded expectations with everything that's gone on this year," Mallory said. "We were playing to go to the state tournament, and I don't think a lot of people gave us that chance. I'm proud of them and disappointed we couldn't get it done for them."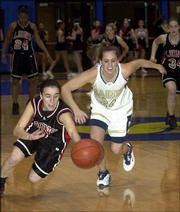 Copyright 2018 The Lawrence Journal-World. All rights reserved. This material may not be published, broadcast, rewritten or redistributed. We strive to uphold our values for every story published.