Had David and Goliath shared a name, David probably would have felt like Mark Lehmann does today.
Lehmann is the owner of Old Home Depot, a Lawrence home remodeling store that has been in business since 1998. Now he's being sued for trademark infringement by Home Depot, the national retail giant that totaled $58 billion in sales during 2002.
"I kind of feel like I'm being bullied," Lehmann said Friday. "We're a small business, so we can't afford to go changing all our signs and everything we had."
Timothy Sear, an Overland Park attorney who represents Home Depot's subsidiary company -- Homer TLC Inc.-- declined to comment on the lawsuit.
But in federal court documents filed Thursday, Sear accused Lehmann and Old Home Depot of trademark infringement, unfair competition, "dilution" and cybersquatting, the last accusation the result of the Lawrence store's Web site, oldhomedepot.com.
Sear said Lehmann's use of the Old Home Depot name reflected a "bad faith intent to profit" from the Home Depot brand.
"Consumers are likely to believe, erroneously, that (Old Home Depot's) goods and services, if any, are affiliated or connected with goods and services offered under plaintiff's Home Depot" trademarks, Sear wrote.
Lehmann, meanwhile, said he never thought shoppers would confuse the two businesses. He named his store, at 1045 Pa., because it formerly served as a truck depot during the early days of East Lawrence.
"We were in the business of renovating old homes, so it just naturally went together that Old Home Depot would be the right name for this sort of place," Lehmann said.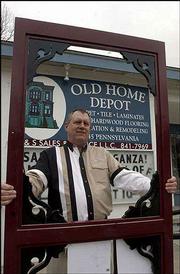 "I'm not sure I was aware of (Home Depot)," he said. "I might have been, I might not have been. It's been so long that I don't remember."
Home Depot has trademarked its name since 1981, according to court documents -- long before Lehmann opened his business. The chain opened its Lawrence store last spring, and soon afterward sent Lehmann a "cease and desist" letter.
There is some evidence that the similar names cause confusion.
A directory assistance operator Friday gave two choices for "Home Depot" in Lawrence: the national chain's store on 31st Street, or Lehmann's establishment in East Lawrence.
Lehmann said Friday he would fight the suit, but he acknowledged he faces long odds against a corporation with deeper pockets and more attorneys. He said he offered this week to make a small change in the name -- from "Depot" to "Dipot" -- which the company ignored in filing the suit.
"I certainly want to keep the name," Lehmann said. "I thought it up, I invented it. I've been six years in town building it up, buying vehicles with the name on it. We've got a lot of money invested in that name, and I certainly want to keep it."
Copyright 2018 The Lawrence Journal-World. All rights reserved. This material may not be published, broadcast, rewritten or redistributed. We strive to uphold our values for every story published.