The sound of music reached a crescendo Saturday at Clinton State Park as more bands took the stage and more people came to enjoy the Wakarusa Music and Camping Festival.
Many were giving high marks to the four-day festival, which concludes today.
"This has been an excellent festival so far," said Jeff Morris, Belleville, Ill. "I go to a lot of festivals, and this has been one of my favorites."
Glen S. Gray, Boca Raton, Fla., agreed. "For the first one, they've done a good job."
Ashley Flaskerud and 20 of her friends rode out a severe thunderstorm early Friday morning that knocked down tents and soaked festival campers.
"The first night it sucked, but the rest of the time has been great," Flaskerud, of Lawrence, said. "It's been awesome. There are just a lot of really good bands here."
Few problems
The weather was no problem Saturday, which was unseasonably cool. There was no rain, but skies were overcast until the sun broke through late in the afternoon.
There were few problems Saturday, according to private security, Douglas County Sheriff's officers and Kansas Wildlife and Parks rangers.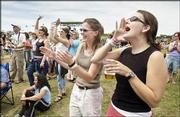 Activity at the medical tent also has been quiet since a boy was bitten by a copperhead snake early in the festival. Medics treated a girl with asthma, a few people with cuts and a lot of people with chiggers, officials said.
Even the musicians were pleased. Marc Roberge, lead singer for O.A.R., gave the festival a thumbs-up.
"We did a show in Chicago last night, so we rolled into Lawrence a few hours ago," Roberge said Saturday afternoon. "Right away I liked the atmosphere here. Everyone seemed very chill; the area is beautiful, and the bands I've heard so far sound really good."
Disappointed vendors
Everything wasn't perfect, however. Many people were seen fixing their own food, disappointing food vendors like Janeen Overton of Irie Kitchen.
"Things have been very unorganized," said Overton, of Asheville, N.C. "I have yet to see the vendor coordinator. We called; they laughed at us."
Overton said she lost a potential breakfast crowd Saturday morning because the gates to the food vending area were closed.
"We're not coming back next year," Overton said.
Melissa Pruitt, of Godfrey, Ill., was another unhappy vendor. She was selling environmentally friendly clothing.
"It's slow," Pruitt said Saturday morning. "They won't open the gates until noon. We've heard there has been unauthorized vending in the camping area. That's not fair to us vendors who paid to vend here."
David Lowder, the festival's sponsorship director, said problems were expected during this first year. Small crowds the first night, possibly because of the weather, hurt vendors, he said.
"This is our first year and it's going to get better," Lowder said. "We've already extended (vendors') hours past what the contract said. When they came they knew what the hours were going to be."
Lowder, however, was happy with the way the festival was going.
"Yesterday (Friday) morning we were looking at each other wondering if we could pull this off," he said. "But by 5 p.m. people were talking about how they couldn't wait until next year. It was amazing how quickly the tide turned."
Brett Mosiman, owner of Pipeline Productions and one of the festival's promoters, also was pleased.
"Most of the problems we've had have been pretty minor," he said. "Everything is going ridiculously smooth. We've had so much positive feedback."
Wakarusa Music and Camping Festival schedule
Saturday, June 19
Revival Tent
2:30 p.m. -- Four Fried Chickens & A Coke3:30 p.m. -- Exit Clov4:30 p.m. -- Bockman's Euphio5:30 p.m. -- Motet6:35 p.m. -- Tea Leaf Green7:40 p.m. -- Greyhounds9 p.m. -- Shanti Groove10:20 p.m. -- Indigenous11:40 p.m. -- Leftover Salmon1:30 a.m. -- Galactic
Sun Up Stage
11:45 a.m. -- Hackensaw Boys12:50 p.m. -- BR5491:55 p.m. -- Robert Bradley's Blackwater Surprise3:05 p.m. -- Bob Schneider4:15 p.m. -- Mofro5:25 p.m. -- Robert Walter's 20th Congress6:45 p.m. -- Hairy Apes BMX7:55 p.m. -- Pomeroy9:05 p.m. -- Spoon10:25 p.m. -- Guided by Voices
Sun Down Stage
Noon -- Kaki King1 p.m. -- James McMurtry2 p.m. -- Monte Montgomery3:05 p.m. -- Signal Path4:10 p.m. -- Garaj Mahal5:20 p.m. -- Big Wu6:35 p.m. -- Jazz Mandolin Project7:55 p.m. -- Particle9:15 p.m. -- Derek Trucks Band10:35 p.m. -- O.A.R.
Sunday, June 20
Revival Tent
Noon -- Mission 191 p.m. -- Dewayn Brothers2 p.m. -- Weary Boys3 p.m. -- Hello Superworld4 p.m. -- Tea Leaf Green5:20 p.m. -- Mountain of Venus6:40 p.m. -- Barefoot Manner8 p.m. -- Robert Bradley's Blackwater Surprise9:20 p.m. -- Lost Trailers10:40 p.m. -- Hot Buttered Rum String BandMidnight -- Split Lip Rayfield
Sun Down Stage
10 a.m. -- Steve Poltz11 a.m. -- Jennifer Hartswick BandNoon -- The Samples1:40 p.m. -- Big Wu3 p.m. -- Donna the Buffalo4:10 p.m. -- Chris Duarte5:20 p.m. -- Indigenous6:30 p.m. -- Los Lonely Boys7:50 p.m. -- Drive By Truckers9:10 p.m. -- Dirty Dozen Brass Band10:30 p.m. -- North Mississippi Allstars
Copyright 2018 The Lawrence Journal-World. All rights reserved. This material may not be published, broadcast, rewritten or redistributed. We strive to uphold our values for every story published.