Emporia — If anything, Saturday's Kansas Shrine Bowl will be an intriguing exhibition of Micah Mason's football versatility.
Mason, a Baldwin High graduate, was an exceptional running back and linebacker while leading the Bulldogs to a state quarterfinal appearance last fall. Offensively, he rushed for 2,011 yards and scored 27 touchdowns.
On the East team at the Shrine Bowl, though, logjams abound at the running back and linebacker spots. To get playing time, the 210-pound Mason is going to line up as a defensive end, likely matching up against offensive linemen some 40 pounds heavier than he.
That sounds like a whole lot of fun, doesn't it?
"It's all right. I'm holding my own against some of the big boys," Mason said with a laugh. "I'm using my speed, because a lot of the guys don't have the speed I have. You've got to find their weaknesses."
Mason is the one of two local players who will play in Saturday's celebrated annual all-star football game. The other is Free State High's Dain Dillingham.
Lawrence High graduate and Kansas University preferred walk-on Josh Lawrence was selected to play, but is unable to because of injury.
For Mason, the Shrine Bowl selection is a final farewell to a special high school football career. He was a four-year starter at Baldwin and a two-time Journal-World All-Area selection and has signed to play next year at hometown Baker University under new coach Mike Grossner.
The Shrine Bowl is Mason's second all-star game of the summer. He also played in the Kansas City Metro Classic in June, getting a couple of carries as a running back.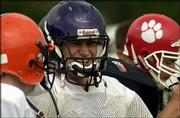 The all-stars have had a week of intense workouts, not unlike a residential football camp. Mason has been stationed in a residence hall at Emporia State since Friday, and the East squad has prepared for the West by participating in two-a-day practices that aren't exactly easy, as one might assume all-star game preparation would be.
"All these guys are here for the same reason. We're really committed to football," Mason said. "Football's life. It's definitely intense out here."
Players from Class 6A to 8-man, from Kansas City to Garden City, sprinkle the Shrine Bowl rosters, each trying to strut his stuff in front of fellow all-stars.
Mason's no different. It's just going to be at a different position.
"I think there definitely is some pride as far as East and West goes," Mason said. "We've come together well as an East squad. There's a lot of family involved here. I think we've really come together, even though we are from a whole bunch of different schools."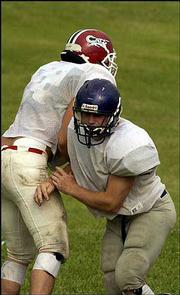 Copyright 2018 The Lawrence Journal-World. All rights reserved. This material may not be published, broadcast, rewritten or redistributed. We strive to uphold our values for every story published.