It really isn't too common for high school soccer coaches, like Free State's Jason Pendleton, to work closely with the local university coach, like Kansas University's Mark Francis.
But the bond can do nothing but good for local soccer, as Lawrence is beginning to find out.
Francis and Pendleton have teamed to create the Kansas Soccer Academy, a place for players to maximize potential by doing technical training under two of the top soccer minds in Lawrence.
Along with six-week sessions devoted to improving skills, the KSA also has created three high school-aged girls club teams, which are coached by KU assistant Lane Davis and assisted by former KU goalkeeper Sarah Gonzalez.
"I think the bottom-line mission is that we're trying to improve individual players within Lawrence," Pendleton said. "From my perspective as a high school coach, and my access to seeing the top teams in the Kansas City area play, the number one thing we're deficient at is our individual skills."
So that's what Francis and Pendleton stress when running the sessions. Pendleton said a typical session should have a player-to-coach ratio of less than 10 to 1, which is small enough for players to get necessary individual attention.
The pair of coaches plan to operate the academy year-round, with players training twice a week under each coach. Pendleton and Francis usually teach on alternating days, but players can expect to learn similar techniques from each.
"Our philosophies are very similar," Francis said. "Otherwise, we wouldn't be able to do this together. We feel the same on how the game should be played and taught. That's obviously helped."
The relationship between Francis and Pendleton has been close since Francis arrived at KU in 1999. Pendleton, in addition to coaching both the FSHS boys and girls teams, is a regular instructor at the KU soccer camps run by Francis and his coaching staff.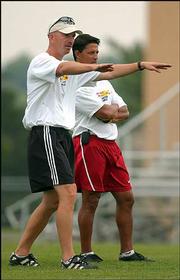 "Coach Francis is the most unassuming, gracious individual I've met in coaching," Pendleton said. "I by no means consider myself his coaching equal, but that's how he treats me. It's a very positive relationship he and I have."
Francis, an All-American collegian at SMU, played professional soccer for almost a decade before turning to coaching full-time. Last year, he led the Jayhawks to an 18-6-1 record and Sweet Sixteen berth, the school's first. He also served as an assistant on the Under-21 national team in 2003.
Now, the Kansas Soccer Academy is a way for Pendleton and Francis to impart their knowledge. Working with a wide variety of ages, the KSA had 16 players at its inaugural training sessions, and many of them chose to train under both coaches instead of just one.
After the successful spring, the two are hoping the KSA can continue to grow. Both coaches will be busy during their seasons -- KU's women and the Free State boys begin preseason workouts in August -- but the two won't be halting the academy sessions during the busy months.
Kansas Soccer Academy will conduct a clinic Aug. 5-6.The clinic is designed to preview the philosophies of coaches Jason Pendleton and Mark Francis about technical training, mainly in skill areas such as ball handling, passing, shooting and heading.For information on the clinic, call Pendleton at 830-0906, or visit online at www.kansassocceracademy.com.
The concept is too promising for that.
"Our plans are to have a fall session, winter session, spring session and possibly do something in the summer," Pendleton said. "This is a long-term thing. We understand the time commitment, but there has to be some continuity involved."
Copyright 2018 The Lawrence Journal-World. All rights reserved. This material may not be published, broadcast, rewritten or redistributed. We strive to uphold our values for every story published.