When Chris and Amanda Croucher learned they were expecting a child, they thought they were planning ahead by opening a college savings account, socking away $100 a month.
Then, several months later, the Crouchers discovered they would have twins and need twice as much for their children's education -- and be spending twice as much to raise them.
"It's scary," said Chris Croucher, whose wife delivered twins Sunday at Lawrence Memorial Hospital. "You're wondering if you'll be able to let them go to college at all."
A proposal submitted last week in Congress is aimed at making saving for college a little less scary.
The American Savings for Personal Investment, Retirement and Education (ASPIRE) Act would create a $500 savings account for each child born in the United States after Dec. 31, 2005.
'Ownership society'
It might sound like a far-fetched idea, but Kansas University researchers who have studied similar plans say it could work.
In addition to contributing $500 to accounts for all children, the federal government would put an additional $500 in accounts for children born to families with incomes below the federal poverty line. The government also would give incentives for additional savings, including matches for savings deposited by low- and middle-class families.
Money could be withdrawn when the children turn 18 and could be applied to education, home ownership or retirement.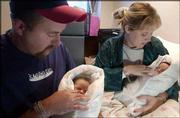 The proposal, introduced by Rep. Harold Ford, D-Tenn., would cost an estimated $3.25 billion the first year and $37.5 billion over 10 years.
"What has inspired this is that I believe in this idea of an ownership society," Ford told the Commercial Appeal newspaper in Memphis, Tenn. "The way to achieve it is to give every American a chance to own -- not just rhetoric about ownership. The only way to do it is to just give everyone something at the start."
The act was co-sponsored by Sens. Jon Corzine, D-N.J., and Rick Santorum, R-Pa., and Reps. Philip English, R-Pa., Patrick Kennedy, D-Mass., and Thomas Petri, R-Wis.
Kansans weigh in
Though not a sponsor, Rep. Dennis Moore, D-Kan., is a supporter.
"Access to higher education is essential to our continued success and prosperity as a nation," said Moore's press secretary, Christie Appelhanz. "While working to make college affordable and available, we also need to do all we can to encourage families to save for higher education. The bipartisan ASPIRE Act gives families a head start in defraying the costs of college and puts the American dream within reach of all children."
A spokesman for Rep. Jim Ryun, R-Kan., said Ryun's office had not yet reviewed the bill.
The basic concept behind the act is being tested by researchers, including some at KU's School of Social Welfare, at 11 sites throughout the country.
One such effort, the Saving for Education, Entrepreneurship and Downpayment (SEED) initiative, is funded largely by the Ford Foundation and the Schwab Foundation. It gives participating families savings accounts of $500 to $800 so researchers can follow their saving habits over time.
Several of the projects started last year, and more studies will be added in coming years. Most of the studies deal with low-income families, although some will include children from various income levels.
"As kids grow, the idea is they'll figure out how to pay for college," said Deborah Adams, associate professor of social welfare and principal investigator for the savings initiative. "We'd like kids to grow up from age 3 or 4 or 5 thinking, 'I have some real money for college.' It helps them think about college all along."
The idea, Adams said, was that families might be more likely to add money for college savings if an account already was established.
"It seems like a lot of money to endow an account for every child born in the country," Adams said. "Overall, if we're talking about the entire federal government, it's do-able."
Not much help
Although the ASPIRE program might be possible, Jason Edmonds said he would rather see the money go to tax incentives for participating in existing programs.
Edmonds, vice president for investments at Robert W. Baird & Co., said $500 invested today in a typical savings account would turn into $1,233 in 18 years.
"This $500 isn't going to be life-changing," Edmonds said. "That $1,233 would be diminished by 3 percent inflation each year. It's going to diminish to (today's buying power of) something like $600. That's not going to do it."
But he agreed that the account could get some people thinking about college who might not have considered it otherwise.
"You've got to give people a stake in the game, and I suspect that is where this concept comes from," he said.
And that's what the Crouchers are hoping for.
The family lives in Osage City, and both Amanda and Chris work for the city of Baldwin.
Though Gracie and Garrett are only three days old, their parents plan on both of them attending college. Any help the government could give would jump-start their savings, Amanda Croucher said.
"It would help us," she said. "It would be nice. It would give us the initiative to start saving more."
Copyright 2018 The Lawrence Journal-World. All rights reserved. This material may not be published, broadcast, rewritten or redistributed. We strive to uphold our values for every story published.