Judges took an iron-handed approach while assigning ribbons Monday during the first day for 4-H food and art exhibits at the Douglas County Free Fair.
"One too many cookies," said judge Cathy Forge as an assistant slid a plate of oatmeal cowboy cookies into her view for consideration.
Food judges don't give brownie -- or in this case, cookie -- points, even in the 12-to-14-year-old competition.
One notch docked for not completely following directions.
Forge deftly sliced a perfect wedge from the extra cookie and dictated her judgment to an assistant.
"Blue."
Four-H'ers from 12 community clubs entered about 600 exhibits for judging Monday, said Trudy Rice, Douglas County Extension director. Dozens of judges swept through the categories into the evening with an assembly line of 4-H members running entries to and from judges' tables.
Among them were the Lynch family of Eudora. The family's three 4-H'ers entered a few projects Monday, but they're most stoked about bringing their pets to be judged.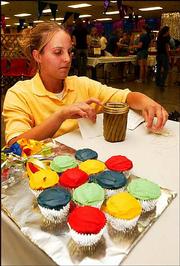 Thirteen-year-old Colton has been hoarding more than 200 bugs this summer for display boxes he'll enter today in the entomology competition. His brother, 8-year-old Caden, has collected 124.
The process, according to Caden, is that first you catch beetles and butterflies, then you freeze 'em, then you pin and identify and wait for them to dry.
They've plagued all four of the family's freezers.
"Bugs in the freezer," chided their mom, Sheila Lynch. "Yeah, I didn't really think that would ever happen."
7:30 a.m.-9:30 a.m.: Accept president's pie baking entries, fair board office, Building 21S1 p.m.-5:30 p.m.: Enter entomology1 p.m.-7 p.m.: Enter all non-livestock exhibits except flowers, 4-H foods, 4-H foods preservation and 4-H heritage and visual arts1 p.m.-7 p.m.: Enter all Open Class non-livestock exhibits except flowers1 p.m.-7 p.m.: Consultation judging, electric, forestry, geology, home environment, photography, rocketry and woodworking1 p.m.-7 p.m.: Judging of "Away with Waste," banners, and project displays4 p.m.-9 p.m.: Enter all livestock (except dog, pets and horses)6 p.m.-11 p.m.: Reed Carnival7 p.m.: Entomology consultation as a group with the judge8 p.m.-9 p.m.: Weigh-in market goats
Copyright 2018 The Lawrence Journal-World. All rights reserved. This material may not be published, broadcast, rewritten or redistributed. We strive to uphold our values for every story published.