Lawrence is sending its largest delegation in recent memory to the Democratic National Convention, with four residents among Kansas' 47 delegates.
"We usually send only one," said Becky Fast, a Lawrence aide to U.S. Rep. Dennis Moore and one of the four headed to next week's convention in Boston.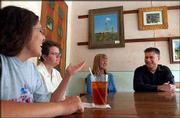 "It's exciting," said Kathy Greenlee, another delegate from Lawrence and assistant secretary of the Kansas Department on Aging. "We're all political junkies, so it's exciting to go and participate."
Lori Learned Robinson, a legal researcher and community advocate, and Tim Graham, an aide to State Sen. Anthony Hensley, are the other delegates from Lawrence.
Robinson is a delegate for former Vermont Gov. Howard Dean, the one-time front-runner for the Democratic nomination for president; the remaining three are supporting Massachusetts Sen. John Kerry, who will accept the nomination at the convention's end.
The national political conventions used to be where the real work of selecting a party's presidential nominee was done. It's been decades -- when Ronald Reagan failed to wrest the nomination from President Gerald Ford at the GOP's 1976 convention in Kansas City, Mo. -- since conventions served that function.
But the local delegates say the gatherings are still useful. Days will be spent in caucuses and seminars to help delegates learn how to get out the vote for Democrats when they return home.
"There's a training aspect to it," Fast said.
Kansas' electoral votes haven't gone to a Democrat since Lyndon Johnson in 1964. In the last century, in fact, Democrats won in Kansas only four other times -- and one of those wins came in 1912, when Teddy Roosevelt and William Taft split the Republican vote.
As a result, the Kansas delegation won't get prime seating at the Fleet Center in Boston. Delegations from swing states like Missouri will be seated close to the podium, while Kansans will be seated farther away, in the back of the bleachers, with a left-of-center view of the stage.
"At least we can see the stage," Greenlee said.
The Lawrence Democrats, though, hope that this is the year to begin shifting the balance in Kansas.
"There hasn't been an election since 1984 (when Ronald Reagan was running for re-election), when I was 10 years old, when I wanted more to elect a new president," Graham said.
The convention starts Monday and runs through Thursday.
Copyright 2018 The Lawrence Journal-World. All rights reserved. This material may not be published, broadcast, rewritten or redistributed. We strive to uphold our values for every story published.