Michael Crawford, a Kansas University professor of anthropology, will spend part of the fall semester in the Aleutian Islands, gathering DNA samples from the natives.
He'll be out of the classroom, but don't say he's on vacation.
"In a flagship university like the University of Kansas, it isn't just teaching alone," Crawford said. "Half your duties are research."
Crawford is one of 22 KU professors who have been granted sabbatical leaves for the fall semester. Another 14 are on sabbatical for the spring semester, 12 have their teaching duties relieved for the entire year and one has his duties at the KU libraries suspended for part of the year.
Kansas Board of Regents policy says no more than 4 percent of faculty at any state university can be on sabbatical during any academic year. KU uses all of its sabbatical allotment each year, in part because the university typically has 60 to 70 applicants for the 45 to 50 sabbaticals available.
To be eligible for sabbatical, faculty must be tenured and have served at least six years at the university. They are eligible for one semester at full pay or a full year at half pay.
Faculty apply for sabbatical through their schools or the College of Liberal Arts and Sciences. Recommended applications are forwarded to a universitywide Committee on Sabbatical Leaves, which selects the best candidates.
Faculty must wait six years between sabbaticals.
"We like to refer to it as one of our major faculty development programs," said Sandra Gautt, vice provost for faculty development. "It is to do research, pursue advanced study or maybe to acquire some type of professional experience."
KU sabbatical research topics for the upcoming year include such wide-ranging topics as acoustics of European choir performance halls, animation and cartoons, the dynamics of structural economics and how laws affect agriculture and industry.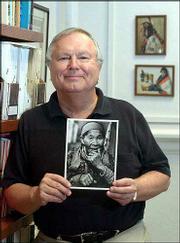 For Crawford, collecting the DNA samples, which he hopes will help reveal patterns of migration from Asia to North America, can only be completed in the fall, because Aleut males are usually on fishing expeditions during the summers.
"You have to be able to get enough males to reconstruct the male genome," said Crawford, who has been on sabbatical four times in his 34 years at KU.
For Barbara Phipps, the upcoming year represents her first sabbatical.
Phipps, associate professor of teaching and leadership, plans to spend two months in Bulgaria, Romania and Albania, analyzing the countries' systems for funding education. She's hoping to resurrect a comparative education course that KU once taught but has since dropped.
"I think just getting away from the responsibilities as a faculty member lets you delve more in-depth in an area of interest and improve yourself," she said. "You come back with new knowledge and with knowledge in new areas, which improves your level of teaching and research."
Gautt said giving faculty time to explore their own interests was one way to keep good teachers in the classroom.
"They come back to the classroom with a renewal," she said. "You have new insights into your own field."
Copyright 2018 The Lawrence Journal-World. All rights reserved. This material may not be published, broadcast, rewritten or redistributed. We strive to uphold our values for every story published.