Baldwin — Keaton Wiley stared in awe Friday morning at Thomas the Tank Engine's smoke stack.
"That's a lot of steam," exclaimed the 4-year-old from Independence, Mo., as the train whistled before leaving the depot at Midland Railway in Baldwin.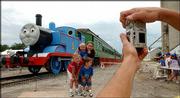 Amy and Matt Wiley drove more than an hour to bring Keaton and his brother Carter, 5, to the "Day Out with Thomas" event featuring the popular children's book and TV character.
"They're so excited," said Amy Wiley, Keaton's mom. "They've been big fans for a while now."
The Wileys were one of hundreds of families that attended the first day of the event, which continues today, Sunday and July 23-25.
Organizers estimate a total of 13,000 people will attend in the six days.
In addition to the train ride, there is a carnival-like atmosphere with a show featuring a magician, an inflatable "fun castle," a storytelling tent, a maze of straw bales, temporary tattoos, a Thomas merchandise tent and plenty of food from local vendors. Children can also take pictures with Sir Topham Hatt, another popular character who appears in the books and shows.
This is the third time Thomas has visited the Midland Railway. Proceeds from the past two visits have provided matching funding for a TEA-21 grant, which helped restore the south half of Midland's track between Norwood and Ottawa Junction.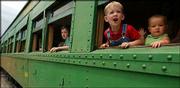 Thomas Wheeler, event chairman, said proceeds from this year's visit would go toward refurbishing cars so the railway could offer a dinner train trip from Baldwin to Ottawa. The Midland Railway Historical Assn. runs excursion train trips on Thursdays, Saturdays, Sundays and holidays from Memorial Day Weekend to Oct. 31.
Midland used to have a dinner train but it was sold to a company in Branson, Mo., about 10 years ago.
Wheeler said people from at least 20 states had bought tickets to the event off the www.ticketweb.com Web site.
Online ticket buyers have been from as far away as Honolulu. Other sales have been made to people in New York, Canada and New Orleans.
"People could be on vacation or may have bought them as gifts," Wheeler said. "We don't know."
R.D. and Amy Cogswell, Topeka, brought their four children, ages 1 to 7, to the event.
"They've been on the little train in Gage Park (in Topeka) before, but this was their first time on a big train," R.D. Cogswell said.
Rides on a train pulled by Thomas the Tank Engine continue today, Sunday and July 23-25 at the Midland Railway, 1515 W. High St., Baldwin. Rides until noon today are sold out, but plenty of tickets remain for other times, organizers said.The rides take place every 45 minutes, allowing 20 minutes for loading and unloading, from 9 a.m. to 5 p.m. Tickets cost $14. Children under 1 are free.To purchase tickets, call (866) 468-7630, or visit www.ticketweb.com.
Copyright 2018 The Lawrence Journal-World. All rights reserved. This material may not be published, broadcast, rewritten or redistributed. We strive to uphold our values for every story published.