Bo Harris looks at a proposal to put downtown Lawrence on the National Register of Historic Places, and he sees trouble.
The Lawrence developer owns land outside the planned district, but near enough to downtown that -- if the proposal succeeds -- he will have to jump through an extra governmental hoop every time he wants to build, remodel or expand.
"I'm worried that personal property rights are being minimized," Harris said Thursday. "That bothers me."
But advocates say the historic designation would help Lawrence preserve a downtown that is the envy of cities nationwide.
"Other cities are trying to rebuild their downtowns, and they're doing it in a Disney-like fashion," said Judy Billings, director of the Lawrence Convention and Visitors Bureau. "We don't have to do that. We just have to keep what we have. And what we have is precious."
Landowners have a month to find out if the proposal has a good chance of becoming reality. The state's Historic Sites Board of Review will consider the nomination to the national register -- and nominations for four other Lawrence neighborhoods -- on Feb. 21.
Restrictions
Placement on the national register comes with restrictions on development within the "environs" -- 500 feet -- of any property listed in the state or national registers. Any activity that requires a building permit within those districts, even on buildings that aren't themselves historic, is subject to review by the city's seven-member Historic Resources Commission.
Historic properties are eligible for tax credits when they are remodeled, city officials said, but that doesn't help owners of other property in the environs.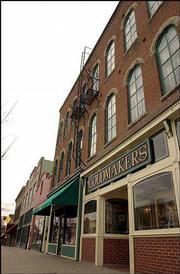 "You get all the negative and none of the positive by being in the environs," Harris said.
But city officials pointed out at a meeting on the topic that downtown Lawrence already is the site of a number of development restrictions. Four properties are on the national register, another one is on the state register and the city has created an "urban overlay district" to govern the exterior appearance of downtown buildings.
Planning Director Linda Finger said review by the Historic Resources Commission should cause minimal trouble for builders.
"This process will add one to three weeks to your review time," she said at the meeting. "It depends on the extent of the project you're doing."
Stuck with a whim?
Pete Wempe, owner of property at 901 R.I., was skeptical.
"You're going to be stuck with whatever whim a seven-member board has, to do your project in the environs," he said.
Lynne Braddock Zollner, the city's historic resources coordinator, said city codes gave development in such environs the benefit of the doubt. And Historic Resources Commission decisions can be appealed to the Lawrence City Commission.
"We're not going to tell you what color you can paint your building," Zollner said. "I think it's a fair review."
And there is enthusiasm for the national register listing within the proposed district.
"I've always been for it," Maria Martin, director of Downtown Lawrence Inc., said after Thursday's meeting. "It adds to the historic significance of downtown. That (significance) has always been there, and it would just increase that."
The Historic Sites Board of Review meets at 9 a.m. Feb. 21 in Topeka. If the nomination is approved, officials said, the National Park Service typically takes three to six months to make the final determination.
Five Lawrence neighborhoods will be considered next month for nomination to the National Register of Historic Places:¢ Downtown Lawrence: Covers properties along Vermont, Massachusetts and New Hampshire streets, mostly between Seventh and Park streets.¢ Pinckney No. 1: Covers primarily properties in the 400 and 500 blocks of Tennessee, Ohio and Louisiana streets.¢ Pinckney No. 2: Covers the 300 block and part of the 400 block of Indiana Street.¢ North Rhode Island: Covers most properties along Rhode Island Street, between Seventh and 12th streets, and a few properties in the 1200 block of Rhode Island.¢ South Rhode Island: Covers most of the 1200 and 1300 blocks of Rhode Island Street, as well as the 1300 block of New Hampshire.The Historic Sites Board of Review will consider the nominations at 9 a.m. Feb. 21 in the museum classroom of the Kansas History Center, 6425 S.W. Sixth Ave., Topeka.
Copyright 2018 The Lawrence Journal-World. All rights reserved. This material may not be published, broadcast, rewritten or redistributed. We strive to uphold our values for every story published.