Topeka — Gov. Kathleen Sebelius waited until the cameras were turned off Monday to propose increases in state income, sales and property taxes to fund a $304 million spending increase for public schools.
"What I promised to do is put education as the top priority, and that is exactly what we've done with the plan outlined tonight," Sebelius said after her 35-minute State of the State speech to the Legislature and other state officials.
The speech was broadcast statewide on television and radio to kick off the 2004 legislative session.
Democrats praised Sebelius as willing to risk political capital for public schools.
"She showed a lot of leadership," said Rep. Tom Holland, D-Baldwin. "She has fulfilled my objectives, and I'm very happy."
But Republican leaders said a tax increase would derail the rebounding economy, and said Sebelius, a Democrat, had broken her 2002 campaign pledge to hold the line on taxes.
"It will send our economy into a death spiral," said House Speaker Doug Mays, R-Topeka.
Schools vs. taxes
The session started with a face-off over taxes and school funding.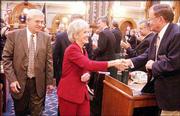 In December, Shawnee County District Judge Terry Bullock declared the school-finance system unconstitutional because students, especially minorities, were being shortchanged by about $1 billion.
Earlier Monday, Sebelius unveiled a $10.2 billion state budget for fiscal year 2005 that increased funding for economic development, higher education and social services -- but kept school funding at 2002 levels.
Her staff said she would outline her education proposal during the State of the State.
Winding into the homestretch of the speech, Sebelius described her proposed budget as "prudent" and "sound."
But she urged the Legislature to "summon the courage and will" to increase funding to education.
"We have weathered the storm," Sebelius said, referring to last year's crash in state revenues. "Now, as our state motto compels us to do, we must look to the stars."
School plan
She added: "Everyone in this chamber knows that we are not adequately funding our schools."
Kansas teachers, ranking 41st in pay and earning $8,000 less per year than the national average, are underpaid, and some are paying as much as $17,000 per year for health insurance, Sebelius said.
Meanwhile, a performance gap between students from middle-income and low-income families is widening, she said. Forty-five percent of Kansas fourth-graders who qualify for free or reduced lunch can't read at their grade level.
"A growing achievement gap is threatening the overall quality of our educational system," she said.
Her plan to address the gap -- called Education First -- would increase base state aid by $250 per student over three years, at a total cost of $145 million.
The measure also would increase funding for at-risk students and early childhood learning, including expanding all-day kindergarten. And the proposal would set up a state system to audit school budgets.
Tax proposal
But during the speech Sebelius never mentioned how she would pay for the plan. Meanwhile, her staff released a seven-page handout with the last page showing "revenue enhancements."
"I was struck that she didn't" talk about taxes, Mays deadpanned later.
Asked afterward why she made no mention of the tax increase in her speech, Sebelius said, "It's important that we focus on the investment in education and the economy. That's exactly what this talk is about, that's what the future is about and that's what we're going to be working on."
Sebelius' tax proposal would add a state income tax surcharge of 5 percent, and increase the state sales tax from 5.3 cents per dollar to 5.7 cents per dollar over the next three years. The statewide school mill levy would increase a total of two mills to 22 mills from 20 mills.
Asked if Sebelius reneged on her campaign promises to not raise taxes, Senate President Dave Kerr, R-Hutchinson, said, "I think most Kansans believe that they heard her say during her campaign that she didn't intend to raise taxes, that she expected us to do more with less. So if her plan was to raise taxes, I think she should've told people that during her campaign."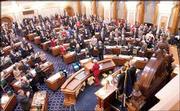 Reaction
Rep. Lee Tafanelli, an Ozawkie Republican, said he feared the tax increase would hurt the economy and cost more in the long run.
"If it costs us jobs to do this, it will be a bigger tax burden," he said.
But state Rep. Paul Davis, a Lawrence Democrat, praised the governor, noting that her proposal was similar to one he and a group of freshman legislators unsuccessfully pushed for last session.
Here's a look at highlights of Gov. Kathleen Sebelius' budget plans for the fiscal year that starts July 1:Public schoolsAdds $304 million over three years for teacher raises, early childhood education, all-day kindergarten and programs for at-risk students. Finances new spending through increases in taxes on sales, personal income and property.Higher educationAppropriates $8.9 million toward fulfillment of Legislature's 1999 pledge to raise spending for four years; adds $1 million for vocational-technical schools, $5 million for general university operations and $1 million for student financial aid.TransportationEnvisions completing all projects promised in 1999, resuming transfers of general revenues to projects in fiscal 2007 and selling $465 million in bonds in fiscal 2006.Smart StartIncludes $10 million -- an increase of $7 million -- from national tobacco settlement revenues for Smart Start Grants for preschool and day care programs.Social servicesSpends $6 million more in state funds -- thus attracting $9.2 million in federal funds -- to reduce waiting lists for in-home services for people with physical and mental disabilities.Juvenile facilityDelays opening of 225-bed maximum-security facility at the Topeka Juvenile Correctional Facility, avoiding $11.8 million in operating costs.Economic revitalizationSpends $3.2 million to promote revitalization of state economy and to recruit and retain jobs.
He said he didn't think a tax increase would hurt the economy, and that Kansans received substantial tax cuts in the mid-1990s.
"It's appropriate for us to ask Kansans to pay a little bit more to ensure that we have first-rate schools," Davis said.
To those who criticized the proposal as either too big or too small, state Rep. Barbara Ballard, D-Lawrence, said Sebelius was trying to reach the right balance.
"Certainly some people want more, but what can we afford and what can get 63 votes (a majority) in the House?" she asked.
She added, "I can't think of too many school districts that would turn down $300 million. Until our economy turns around, this might be the best we can do."
Sen. Mark Buhler, R-Lawrence, said he needed to see more details on Sebelius' budget proposal, but that a tax increase could be adopted by the Legislature.
"I'm interested to see what kind of leadership the governor shows," he said.
Rep. Tom Sloan, R-Lawrence, was one of the few Republicans who thought Sebelius' plans were too small.
"It's weak on specifics. It's not a very aggressive budget," he said. "It's a step, albeit a small one, in the right direction."
Officials even argued about the size of the proposed tax increase. Sebelius' office maintained it was a $300 million tax increase, but Mays said it would raise taxes a total of $664 million over three years.
Budget questions
And as details of Sebelius' budget plan became known Monday evening, more questions were raised.
The spending proposal covers the remainder of the current 2004 fiscal year, which ends June 30, and the 2005 fiscal year, which starts July 1.
The budget would increase funding for higher education, economic revitalization, social services and provide a 3 percent cost-of-living increase for state employees.
But it depends on the state issuing $465 million in bonds to keep intact the state highway building program.
And the state employee pay increase is funded by cutting 10 percent from certain administrative expenses at nearly 100 agencies, including Kansas University.
Sebelius' budget director Duane Goossen said the cuts would come from making some functions more efficient, such as information technology and purchasing.
Despite the borrowing and the vague cuts, Goossen said the state was in a better fiscal condition than in recent years.
"We are in a much more stable situation," he said.
A law that will allow this year's property taxes to be collected sooner gave the state a $163 million revenue boost. In addition, a one-time federal reimbursement added $62 million, and tax revenues for the first quarter of the fiscal year are running 5.4 percent ahead of last year.
Copyright 2018 The Lawrence Journal-World. All rights reserved. This material may not be published, broadcast, rewritten or redistributed. We strive to uphold our values for every story published.