Pharouk Hussein considers every day on the Lawrence High wrestling team a state tournament-like challenge.
It might sound crazy, but he often spars with standouts Brendan Halpin and Nolan Kellerman on the practice mat.
"Wrestling them is like wrestling a championship match," Hussein said. "You don't get anything easy, no matter what."
It should make these Lions -- three of the top wrestlers on Lawrence's young yet talented squad -- a bit more comfortable when the Kansas state wrestling meet begins at 9 a.m. today in Wichita.
Kellerman and Halpin, both sophomores, and Hussein, a junior, are expected to make plenty of noise on the mats this weekend at the Kansas Coliseum. After facing each other in practice all season, being alive for state makes them automatic threats.
The three have combined to go 103-19 this season. Hussein, at 130 pounds, is 34-7. Halpin is 36-5 at 140, and Kellerman is 33-7 at 145.
"Being able to interchange them in those weight classes makes them good practice partners," LHS coach Mark Dulgarian said. "And that's really important."
Feeding off each other has undoubtedly made these strong wrestlers even better. Hussein has enjoyed the most postseason success of the three this season, winning the Sunflower League meet and the Class 6A regional meet at Leavenworth this month.
Not bad, considering Hussein, originally from Ghana, wrestled for the first time as a freshman just more than two years ago.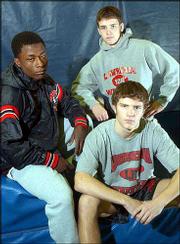 "Pharouk is an amazing athlete," Dulgarian said. "He's an individual that's going to continue to get better. What he lacks in mat time and mat experience he makes up for with his athletic ability."
Not to be outdone, Halpin and Kellerman have shown remarkable success, especially considering they're 10th graders. Both will be making their second trip to the state tournament, and both are ranked fourth in the state in their weight classes by the Kansas Wrestling Coaches Assn.
Hussein is ranked fourth, too, as is LHS senior Clayton Kellerman, a state qualifier at 215 pounds.
A little eerie? Sure, but the Lions see it differently.
"We're all hoping it's the lucky number," Hussein said.
That remains to be seen. But most of the Lions will concede rankings -- be it first or fourth -- aren't what wins championships.
"At state, it doesn't really matter what your rank is," Halpin said. "It's who goes out there the hardest and wrestles the best."
Halpin's first-round match is today against Olathe South's Eric Hobert. Hussein will face Wichita Northwest's Tyler Adcock, and Kellerman will wrestle Manhattan's Kris Fitzgerald.
Those poundings the big three inflict on each other in practice could pay off.
"Everybody has a chance to place," Hussein said. "Everybody has to go win these first two matches, and see what goes from there."
Copyright 2018 The Lawrence Journal-World. All rights reserved. This material may not be published, broadcast, rewritten or redistributed. We strive to uphold our values for every story published.