Most Americans wouldn't consider them traitors or dangerous. But the Bush administration does, and it's going after them.
One of the culprits bagged by the Bush enforcers was a 75-year-old grandmother who thought she was taking a harmless bicyclist's vacation in Cuba. The Bush administration, using a federal law that had been largely ignored for most of its 40-year history and considered by many to be unconstitutional, nailed her for "trading with the enemy."
A Christian fundamentalist from Indiana went to Cuba to deliver Bibles. She was caught and fined for "trading with the enemy." Now, she's worried the Bush administration might come down on other members of her church should she reveal their names.
Across America, including in Lawrence, the Bush enforcers are turning up the heat, often years after the violations occurred, on people whose sole crime was traveling to Cuba. In many, if not most, instances the tourists have been charged simply because they admitted to the trips.
Lawrence connection
"All these people who are getting these fines are truth-tellers," said Sarah Stephens of the Freedom to Travel Project sponsored by the Center for International Policy, which is based in Washington, D.C.
Sneakier visitors to Cuba, including dozens from Lawrence, who took simple steps to avoid leaving a paper trail of their journeys and didn't later confess, have escaped the law's newly wielded hammer.
Bob Augelli, of Lawrence, one of about 2,000 people being pressured by the government for their illegal tourism, has spent the past few months worrying how he would come up with the thousands of dollars in fines he faces for admitting to four trips to Cuba in 1998 and 1999.
More than four years after signing a customs form acknowledging the visits, Augelli was notified last October by the U.S. Treasury Department's Office of Foreign Assets Control that it was serious about collecting $37,000 in fines from him if he refused to settle the agency's claims against him.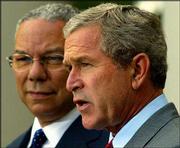 'Very scary'
"This is certainly a very scary experience -- to feel what seems to me the full weight of the government of the U.S. leaning on me," Augelli said, sitting on a sofa beneath a canopy of banana trees growing inside his home off Ninth Street. "It's upsetting. It's stressful. And I think it is particularly stressful in light of the fact that I love my country and I've always considered myself to be a good citizen."
The Puerto Rican native's crime: going to Cuba to get in touch with his Caribbean roots and visit a girlfriend. He came back with the inspiration for an artistic gesture of goodwill for which he later was granted a U.S. license for Cuba travel. That legally sanctioned project, called "Rosa Blanca," took Lawrence landscape muralist Stan Herd to Havana to create a tribute to Cuban poet and patriot Jose Marti.
Marti, the Cuban George Washington, is a hero to Cubans in both Miami and Havana.
"What Bob was trying to do was one more example of folks trying to engage constructively and build a better world," said Bill Martinez of San Francisco, one of Augelli's attorneys. "Rosa Blanca was supposed to be such a universal statement of peace and love."
The law
The Cuban provisions of the Trading with the Enemy Act became law in 1963, in the wake of the Cuban Missile Crisis. But most U.S. administrations couldn't be bothered to enforce it. For years it has mostly been considered a dead-letter law, enforced inconsistently, if at all, an archaic leftover of the Cold War.
According to the Office of Foreign Assets Control, the U.S. Treasury Department agency that enforces the Cuban travel ban, only 188 letters were mailed to travel-ban violators in the last year of the Clinton administration, which took steps that actually encouraged a flood of U.S. tourists to Cuba.
But within months of Bush taking office, almost 500 letters had been sent. And as Bush's first term draws to an end, OFAC's Civil Penalties Division has a docket of nearly 2,000 actions relating to Cuban embargo violations.
According to Cuba Travel USA, an estimated 60,000 Americans traveled during 2001 to Cuba illegally. Among those allowed to legally travel to Cuba and to send money there are Cuban-Americans, the group that is the major political force opposing the right of other Americans to visit the island.
Unexpected critics
Prominent -- and some unexpected -- critics of the hard-line Bush enforcement actions and policies toward Cuba say the only logic to the administration's new zeal in enforcing the old law is that of winning elections.
"This policy is controlled by the president of the U.S. and the political forces around him," said former Kansas congressman and U.S. Agriculture Secretary Dan Glickman. "Look, the president won Florida by 500-some odd votes, and this is going to be another close election. They don't want to lose Florida. This is nothing more than presidential electoral politics."
Glickman is now director of the Institute of Politics at Harvard University's John F. Kennedy School of Government.
The new, tough Cuba line is popular with an influential portion of a tiny, U.S. minority: politically conservative Cuban-Americans, whose passion for unseating Cuban dictator Fidel Castro is undiminished after more than four decades in exile. Supporters of the Cuban embargo say tourist dollars line the pockets of Castro's repressive regime.
South Florida battleground
"Once that tourist leaves, the people stay," said Mariela Ferretti, a spokeswoman for the Cuban American National Foundation, a Miami-based group that supports the travel ban. "They're the ones who have to face the prisons."
The strongest outpost of the Cuban exile community, which makes up less than one-half of 1 percent of the U.S. population, is the south Florida counties where the 500 votes that decided the 2000 presidential election were cast.
U.S. Sen. Pat Roberts, the Kansas Republican who heads the Senate Intelligence Committee, agreed that Augelli and others caught by the Bush crackdown were victims of Bush family electioneering.
"Two years ago it was the governorship. Four years ago it was the presidential thing. Now, it's the presidential thing again," Roberts told the Journal-World.
The governorship Roberts mentioned was the one successfully sought in Florida by Jeb Bush, George W. Bush's brother.
Ending the embargo
The hard-line enforcement also comes despite strong evidence most Americans support lifting the ban against Cuba travel. At very least, a majority of their representatives in Congress support removing the ban.
In September, the U.S. House approved, 227-188, an amendment suspending enforcement of the travel ban. In November, the Senate followed suit 59-36. But congressional opposition to the travel ban wilted in the face of an expected Bush veto. The Republican leaders of Congress let the amendment die in a conference committee rather than risk a showdown with the president.
Critics say the administration's stance toward Cuba is meant to appease the anti-Castro passions of the Cuban exile community leadership, even though there is evidence Cuban Americans themselves are increasingly divided over the embargo.
Roberts and others argue the embargo harms average Cubans and strengthens Castro's hand by allowing mistrust and misinformation about the United States to flourish in Cuba. It also gives Castro a handy excuse for the island's economic problems. And the embargo, critics say, in slamming the door to Cuba prevents U.S. businesses and agriculture interests from fully exploiting a critical new market in their own back yard.
Wheat market
According to figures from U.S. Wheat Associates in Washington, D.C., Cuba purchased 221,000 metric tons of U.S. hard red winter wheat between January 2002 -- when the first U.S. wheat shipments left for Cuba -- and last May. Most of America's hard red winter wheat is grown in Kansas.
Roberts and Kansas Congressman Jerry Moran have been vocal supporters of relaxed relations with Cuba. Kansas wheat farmers are fully behind them.
"There is some open trade now, but you have to jump through quite a few hoops to do it," said Brett Myers, executive vice president of the Kansas Wheat Growers Assn. The Cubans "have to get their money through a third-party bank. We'd just like to open it up completely. They're going to buy grain somewhere. They need what we've got."
But the 2,000 wheat farmers of the Kansas association and their fellow farmers across the nation are no match for the political clout of the Cuban-American opposition.
Florida threat
Last August, a group of Republican state lawmakers in Florida wrote to Bush warning him that unless he made "substantial progress" toughening the U.S. stance against Cuba, he and other Republicans risked losing Cuban Americans' support in the 2004 elections.
And, warned Florida state Rep. Juan Carlos Planas, Bush "needs to know that unless things change, the support he has gotten in the past will not be there."
Bush apparently got the message.
Two months later in a Rose Garden ceremony, the president announced a commission charged with planning Cuba's "transition" to a free society. He announced an increase in the number of Cuban immigrants allowed into the United States each year. And he promised a tougher travel ban.
"We're cracking down on this deception," Bush said. "I've instructed the Department of Homeland Security to increase inspections of travelers and shipments to and from Cuba. We will enforce the law."
It was about the same time Augelli and hundreds of other Americans began learning the Bush administration meant business.
No apologies
Bush enforcers are making no apologies for the crackdown, regardless that missionaries and pedal-pushing grandmas are being caught in the net.
"People who travel without proper documentation, or who travel illegally ... need to understand they run afoul of U.S. law and run the risk of being fined," said Juan Zarate, the Treasury Department's deputy assistant secretary for terrorism and violent crime.
Zarate said he had relatives in Cuba and that he and Bush wanted the country to prosper -- but without Castro in power.
The White House referred many Journal-World questions about the crackdown to OFAC and Zarate.
Zarate said clamping down on U.S. visitors to Cuba would undermine Castro.
Reduced tourism has "a direct effect on Castro's effect to draw capital," Zarate said. "Tourism is a huge part of Cuba's economy. To our extent that we can affect it, we affect his ability to control the society."
Copyright 2018 The Lawrence Journal-World. All rights reserved. This material may not be published, broadcast, rewritten or redistributed. We strive to uphold our values for every story published.