Arkansas City — Straight from a shift at the meatpacking plant, a father sought help last year at the town's high school because he feared his daughter's dreams of becoming a nurse were dashed by the one B she had received on a report card otherwise filled with A's.
Marta Fernandez, a visiting teacher from Spain, spoke in Spanish to assure the Mexican immigrant that his daughter was doing fine. The man left relieved but not before saying, "'I don't want my kids to have to work as hard as I have to work,"' recalled assistant principal Marci Shearon.
The story illustrates why Shearon is grateful to have Fernandez to help translate for and teach the growing number of Hispanic children and their parents who have moved to the town since the beef processing plant opened in August 2001.
Fernandez is one of 1,152 teachers in 24 states participating in the Visiting Teachers from Spain program through Spain's Ministry of Education and Culture.
The program started in 1986 in California, where it remained almost exclusively until 1997, said Natalio Ormeno, of the Spanish embassy in Washington, D.C. As the U.S. Hispanic population soared, other states began requesting teachers.
California has 322 of the visiting teachers; Texas has 219; Illinois 207; and New York City 42. In its second year in the program, Kansas has a dozen visiting teachers, all assigned to rural school districts, most of them near meatpacking plants and corporate dairies, industries that tend to attract large numbers of Hispanic immigrants.
More than half of the visiting teachers work with immigrant children. Most of the others teach Spanish classes for English-speaking middle and high school students.
Fernandez does a little of both. She spends part of her time helping fledgling English speakers in their math classes, translating in Spanish when the regular classroom teacher pauses. The rest of the time, she teaches Spanish to a mixture of native and non-native English speakers.
Some of the students in her Spanish classes are from small rural districts that can't afford a full-time Spanish teacher. The students watch the classes via two-way video feed and Fernandez evaluates their progress on television monitors in her classroom.
Ana and Maria Lopez, 16 and 15, spend much of their day with Fernandez, who has become something of a big sister. The sisters appreciate her efforts to use a mixture of Spanish and simplified English to help them survive.
Ana Lopez says she likes her teacher "because she tells me what is in Spanish what is in English."
Fernandez also teaches English to some of her students' Spanish-speaking parents and helps the school district spread news to the Hispanic families at church. The city's Catholic church attracts many Hispanic families with its bilingual service.
The 29-year-old from the Spanish city of Valladolid has quickly become immersed in Arkansas City. She is in her second year in the city and plans to stay a third year. The Arkansas City School District wrote a grant that pays her salary.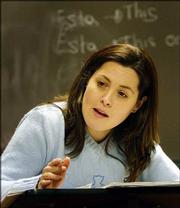 Two car dealerships in town are providing her with a car. She lived the first year with assistant superintendent Jan Voss. The assistant superintendent jokes that she plans to get Fernandez married to a Kansas man so she can keep her in Arkansas City.
The move has been an adjustment for Fernandez, who initially wanted to teach in Chicago, Wichita or the Kansas City area. The job has transplanted her from a bustling city north of Madrid with a population of more than 300,000 to a town of about 12,000.
She has given up fine shopping for a city whose downtown is filled with a handful of antique shops, a three-plex movie theater and a clothing store and a shop that sell everything from hot soup for lunch to wedding gifts.
Most of the families in town, about 50 miles south of Wichita, work in agriculture or manufacturing. Creekstone Farms Premium Beef employs about 650 workers at its Arkansas City processing facility.
Fernandez credits Christopher Renner, an instructor at Emporia State University who coordinates the program in Kansas, with persuading her to give Arkansas City a chance. Renner is proud of his efforts to lure the Spanish teachers to rural Kansas with glossy magazines and brochures from state agencies.
"The way the situation is in Kansas, rural schools have a hard time getting teachers," he said. "No one wants to go out there, so I really geared it toward the rural schools."
Although it isn't what she had originally planned to do with her life, Fernandez said she is happy with the move.
"The kids in this school are kind of nice because they live in a small town," Fernandez said. "It's been a great experience."
Copyright 2018 The Associated Press. All rights reserved. This material may not be published, broadcast, rewritten or redistributed. We strive to uphold our values for every story published.