Amman, Jordan — A rare storm dumped more than 2 feet of snow on parts of the Middle East, breaking power lines in Lebanon, collapsing a wall at a holy site in Israel and delaying talks between Israelis and Palestinians. At least one person was killed.
In the capital of this desert kingdom, snowmen lined the streets of Amman on Sunday, and children sledded on plastic tubs and bowls.
Parts of Jordan received as much as 2 1/2 feet of snow, and more was reported in outlying Lebanese and Syrian villages.
The wintery blanket stranded motorists and closed schools and businesses Sunday, the first day of the workweek for much of the region.
In Lebanon, a man was electrocuted Saturday when strong winds snapped a power line in the Bekaa Valley, Lebanese media reported.
Meanwhile, in Syria, the blizzard forced the cancellation of an annual protest against Israel's 1981 annexation of the Golan Heights.
Syrians traditionally stand on the edge of the so-called Shouting Valley, yelling through megaphones and singing national songs to Arabs living on the other side of the fence in the Israeli-occupied Golan.
Still, people managed to relish the unusual weather. In Amman, men wearing long robes and women in traditional black dresses and Islamic head scarves played in the powder.
Icy roads prompted Israeli and Palestinian negotiators to postpone a round of talks scheduled for Sunday, aimed at preparing a meeting between Israeli Prime Minister Ariel Sharon and his Palestinian counterpart, Ahmed Queria. No new date was set.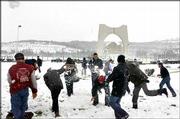 Palestinian ministries were shut Sunday.
The storm also caused the Jordanian parliament to postpone a session to debate the 2004 budget.
In Jerusalem, heavy snow caused an old wall to collapse on the ramp leading to the Temple Mount, a site holy to Jews and Muslims. No one was injured.
Copyright 2018 The Associated Press. All rights reserved. This material may not be published, broadcast, rewritten or redistributed. We strive to uphold our values for every story published.