Not this time, Free State.
Too many heroes Saturday. Too much energy in Lawrence High's deafening gymnasium. And way, way too many swishes from long range when the game reached the critical stages.
Third time -- and three-pointers -- were a charm for the LHS boys basketball team, as they rolled to a 77-69 victory over the crosstown rivals in front of a packed house at LHS.
Free State won the first two meetings earlier this season, but Lawrence's nine dramatic three-pointers in the second half fueled the victory that sent the LHS student body to midcourt for a postgame celebration.
"I was really proud of our kids," Free State coach Jack Schreiner said. "For us to stay in the game when they're shooting like that ... what do you do?"
Besides shake your head and throw your hands in the air, there's not much to do. LHS shot 60 percent from three-point range in the second half, more than double its season average. The main culprit was senior Joe Crane, who drilled four second-half threes -- three of them coming within 90 seconds of each other.
"Joe Crane has been in a slump lately," LHS coach Chris Davis said. "I always thought he was one of our best shooters. When he hit that first one, I thought, 'Oh boy, here we go.'"
Crane's fourth bomb of the half put LHS up 62-54 with 3:56 to play. He later hit two free throws to help ice the game and finished with 14 points.
After starting the game 0-for-6 shooting from long range, Crane got hot in a hurry.
"My teammates kept me up," Crane said. "They kept telling me to shoot the ball. I came out that second half and just felt it."
He wasn't the only one. Lawrence's Tyler Knight and David Freeman each hit three treys on the night, and Taylor Parker and Kit Swain each added second-half three-pointers to help sink the Firebirds.
Free State, playing without ill leading scorer Dain Dillingham, still played well, getting 17 points from junior Brady Morningstar and 15 from senior Cole Douglas. A Tyler Blankenship bucket with 1:35 to play put Free State within five at 66-61.
But as solid as the Lions were from downtown, they looked just as sharp from the free-throw line. David Freeman, Tyler Knight, Tony Anderson and Jono Gittins hit free throws late to seal the LHS victory.
Despite the phenomenal shooting by Lawrence's guards, perhaps the brightest star was Anderson, a forward. The 6-foot-5 junior -- one of the few LHS players with considerable height -- averaged just 1.5 points per game going in, but erupted for 13 points and eight rebounds Saturday.
He scored seven in the first half, giving the Lions an offensive boost when the outside shooters weren't hitting their shots.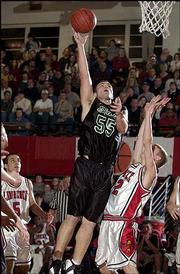 "Tony gives us a presence inside that we really haven't had yet," Davis said. "He's starting to come along. We thought he would. Tonight, he broke out."
With the non-league victory, Lawrence improved to 4-10 on the season. Free State dropped to 8-5. Barring a run-in come postseason, it's the last time the two teams will meet until next year.
It was quite a memorable way to close out the season series.
"When you live by that shot," Schreiner said, "when you hit it, you're going to look great. They looked great tonight."
Copyright 2018 The Lawrence Journal-World. All rights reserved. This material may not be published, broadcast, rewritten or redistributed. We strive to uphold our values for every story published.