It was a third-round knockout, and Lawrence High wins again.
The LHS girls basketball team beat Free State, 63-51, Saturday, sweeping the season series 3-0 and upping its record to 8-5 overall.
It's the seventh straight time Lawrence has topped its crosstown rival. This time, Free State just ran into an LHS squad playing as well as it has all season.
"We beat them three different ways," Mallory said of the city showdown. "We played three different games; they played three different games. It was nice to come out on top."
Lawrence High had the blueprint for success -- get the ball inside. It worked a week ago when LHS beat FSHS, 48-29, at the Firebird Winter Classic, and Free State had no answer for the duo of Megan Klingler and Cheralle Ricks again. Seems nobody does. The two combined for 34 points Saturday, one night after combining for 35 in a victory over Shawnee Mission South.
Ricks, who was averaging 11.7 points a game this season, was fouled nine times by Firebirds with no way of stopping her. She sunk nine of 12 free throws and finished with a game-high 25 points.
Ricks said her emphasis on putting more arc on her free throws had led to more success -- and more points.
"It was extremely flat," Ricks said of her early season woes. "It was going straight in and coming right back out."
Klingler, who also was hacked a lot Saturday, finished with nine points and seven rebounds. The two combined to cause fits for the Firebirds, who saw both Jamie Stanclift and Banaka Okwuone foul out late.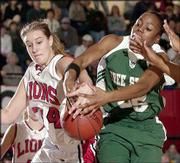 "We were outmanned," FSHS coach Bryan Duncan said. "Klingler and Ricks were dominant inside."
Free State (4-9) kept the game close, down just 25-24 at halftime. But the Lions outscored the Firebirds 38-27 in the second half to seal the deal.
"In the second half, we stepped up our game," Mallory said. "We did a good job on the boards. We didn't give many second-chance opportunities."
Stanclift led the Firebirds with 13 points, and senior Jenny Gwaltney added 10.
Drew Huff had 10 points for the Lions, who rolled to their fourth straight victory. Since dropping an ugly 46-39 decision to Topeka Highland Park at the Firebird Winter Classic, it seems nobody has had an answer for LHS.
Add Free State to that list. Again.
"We tried to switch defenses on them a little bit," Duncan said. "We tried to focus on those two (Klingler and Ricks), but if you completely pack it in, they have shooters, too, and they're going to knock down shots."
Copyright 2018 The Lawrence Journal-World. All rights reserved. This material may not be published, broadcast, rewritten or redistributed. We strive to uphold our values for every story published.