Olathe — Lack of depth kept the Free State High swimming and diving team from winning the Sunflower League championship Saturday, but the Firebirds had just enough depth to make for a darned entertaining race for second place.
The Firebirds had a banner day in the California Trail Junior High pool. They claimed first-place finishes in seven of 12 events, including a meet record 3:19.23 in the 400-yard freestyle relay -- the final race of the day -- to forge a second-place tie with Olathe East.
Both teams earned 246 points.
Shawnee Mission East won the league crown with 273 points.
"We looked at the totals (Friday), and we knew that it was going to be really close with Olathe East," Free State coach Annette McDonald said. "The guys were really excited about that. They were ready, and you could tell. We swam some of our best times.
"Even the guys in the back got great times. Nathan Schriner stepped up. Will (Hecht) stepped up. Bret (Robinson) stepped up to make those relays good for personal bests."
Free State cruised to a four-second victory in the first event of the day, the 200 medley relay, and followed that with a 1-2 finish in the 200 freestyle with Alex Brunfeldt and Chris Sellon.
Chase Torgerson took fourth in the 200 individual medley, and Chris Wolff narrowly missed a meet record while winning the 50 freestyle. After three victories in four events, FSHS already trailed SME, however, because the Lancers had numerous seconds and thirds, as well as multiple finishes in the consolation heat.
The race was on for second.
Anthony Portela won the 100 butterfly, and Wolff threatened another meet record with his 100 freestyle victory. Then Brunfeldt and Sellon placed 1-2 again, this time in the 500 freestyle.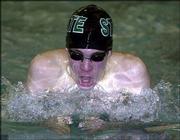 Schriner and Hecht took 10th and 12th in the 100 freestyle. Then Hecht and Spencer Flannigan placed 10th and 11th in the 100 backstroke. That gave FSHS just enough points to tie for second with a win in the 400 free relay.
Sellon, Torgerson, Portela and Brunfeldt's meet-record performance made second place a reality and capped an outstanding day for the Firebirds.
"This is sweet," McDonald said. "We knew it was going to be close, and everything just fell beautifully into place."
Lawrence High had a banner day of its own, albeit not to the same extent as Free State. The Lions are young and relatively inexperienced, but that didn't keep them from creating a few highlights.
The Lions' goal entering the meet was a top-10 finish, and they placed eighth.
One day after earning his first state-meet qualifying time ever (100 breaststroke), LHS senior Ian Legler garnered another state berth, this time in the 200 individual medley while placing 10th. He added an eighth-place finish in the 100 breast. Senior Phillip Wrigley narrowly missed a state qualifying time in the 100 butterfly while placing eighth, but he drastically improved his state odds by improving his consideration time.
Junior diver Nick Leet provided the highlight of the day for the Lions, however. He dominated through the first eight rounds and then nailed all three dives in the finals to capture the league championship on the one-meter board.
"Everyone had a really good meet today," LHS coach Alicia Jackson said. "The guys worked so hard and did so well. I'm proud of them, and I'm very pleased with their performance."
Copyright 2018 The Lawrence Journal-World. All rights reserved. This material may not be published, broadcast, rewritten or redistributed. We strive to uphold our values for every story published.