The snow Thursday was a beautiful sight for wheat farmers but caused concern for Kansas cattle ranchers.
"For wheat, this is its type of weather," said Bill Wood, an agriculture agent with the Douglas County Extension Service. "Give it some moisture, give it some snow, cover it up and let it get ready to grow."
John Morris, director of communications for the Kansas Wheat Growers Assn., said the state's largest commodity crop was in dire straits in certain areas.
"In some parts of the state, not in all parts, but in some the moisture levels are in a crisis situation," Morris said. "Particularly in northwest Kansas, it is very bad. They haven't had measurable moisture in three or four years. It is so bad that it is questionable whether any moisture will help there because the fields were so dry that nothing germinated."
A wheat farmer's delight, though, can be a rancher's bucket of frustration.
"Snow worries us more than anything because it creates a lot of problems as far as getting around and doing chores," said Mary Ross, a partner in Nunemaker-Ross Inc., which operates a cattle operation north of Lawrence. "We have to scoop snow out of our bunks before we can feed (cattle). That adds a lot of time to our day."
In other parts of the state, farmers have reported problems with keeping newly-born calves alive during the cold weather. Calving season typically runs from January through March on most Midwest farms. It's not uncommon for farmers to check on young calves every three to four hours -- day and night -- to make sure their young livestock survive.
"I don't think my husband and I have had a full night's sleep since we started calving," said Debbie Lyons-Blythe, a White City rancher. "It sounds like we have a new baby, but actually it is a lot more work than a new baby."
Nevertheless, Wood said area farmers were willing to take on the extra work for the moisture.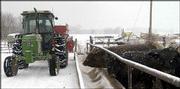 "I've heard farmers say they're happy to do chores in the mud because they know we need the moisture," Wood said.
The recent snowfall, though, likely isn't helping the Douglas County area as much as other parts of the state. That's because area farmers plant a relatively small amount of wheat.
The most recent totals for 2003 showed 9,000 acres of wheat were planted in Douglas County, down significantly from levels of about 10 years ago when farmers planted about 15,000 acres of wheat per year.
But Wood said the trend may be reversing. He said farmers may be returning to the crop because it is heartier in dry weather. The 9,000 acres planted in 2003 is up from 5,800 acres planted in 2002.
---
The Associated Press contributed to this report.
Copyright 2018 The Lawrence Journal-World. All rights reserved. This material may not be published, broadcast, rewritten or redistributed. We strive to uphold our values for every story published.