A dental clinic for the poor and working poor estimates it will help 3,000 Douglas County residents this year, in part because of the jump start it got from a 3-year-old charity that has focused on improving the quality of life in Lawrence.
The Douglas County Dental Clinic got started with a $15,000 subsidy from the Douglas County Community Foundation.
"That grant was a way to help us build capacity and get the ball rolling. It's worked out marvelously well," said Jason Wesco, director of the dental clinic, 4920 W. 15th St., which treats patients who don't have insurance or who are enrolled in subsidized government health programs.
The clinic is the kind of quality-of-life building block the community foundation was intended to foster, foundation officials said.
And in a push to broaden the Lawrence organization's reach, the foundation raised $500,000 in new gifts and received $500,000 in investment income last year. That pushed total foundation assets to a record $6 million.
"We've continued to grow, and I think we're really starting to see fruits of our labor," said Sara Corless, the foundation's executive director.
She said there was extra incentive to increase foundation assets in 2003. By adding at least $500,000 to its endowment, the foundation met requirements set by the Kansas Health Foundation in Wichita for a $250,000 matching gift.
That quarter-million dollars will become available to the foundation in 2004, and is destined to help Douglas County's youngest residents.
"For the most part, it's for the health and well-being of the children," Corless said.
Anyone interested in making a donation or learning more about the Douglas County Community Foundation may contact the nonprofit organization at 843-8727, or 900 Mass., Suite 406, Lawrence 66044. The foundation's e-mail address is dccfoundation@aol.com.
One woman's dream
The foundation was created in 2000 with a gift of $5 million from philanthropist Hortense Oldfather, Lawrence. The widow of former Kansas University law professor Charles Oldfather decided to set up the nonprofit corporation to attract donations in Douglas County for children, education and health service programs.
"I grew up modestly," Oldfather said. "I was a Depression girl. I moved to Lawrence in 1950. I felt it was my town, and I was lucky enough to come into some money."
Her father helped start Hi-Bred Corn Co. in the 1920s. Decades later, the family's holdings in the hybrid seed industry made Oldfather quite wealthy.
"It grew from a seed," she said.
Oldfather, 84, said she decided in the late 1990s to be the primary benefactor of a new community foundation.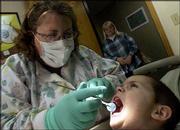 "I don't mind giving things away," she said. "A lot of people like to hang onto money. Don't ask me why. You can't eat it. I grew up without much money and I never hankered to live rich."
$500,000 and counting
The foundation that Oldfather's gift spawned has issued half a million dollars in grants to organizations serving residents of the county.
The list of recipients includes Boys and Girls Club of Lawrence, Health Care Access, Lawrence Arts Center, Lawrence Schools Foundation, Trinity Respite Care, Douglas County AIDS Project and Mother to Mother of Douglas County.
Between $150,000 and $200,000 in additional grants will be awarded in March by the foundation's board of directors, Corless said. Requests for assistance total more than $675,000.
The foundation's board members are Oldfather; Mike Davis, attorney; Dan Lambert, Baker University president; Barbara Reavis, former executive director of Douglas County United Way; Robert Georgeson, banker; Roger Pine, farmer; and Marilyn Dobski, McDonald's franchise owner.
"It's a good bunch of people," Oldfather said.
The Lawrence foundation, which has an office at 900 Mass., has only one full-time staff member -- Corless.
Options for helping
Corless said the foundation had created different kinds of funds so that individuals or organizations interested in working with the foundation can have different options for funneling money to various agencies and groups.
The types of funds administered by the foundation:
Donor-advised funds -- Donors actively participate in the grant-making process.
l Designated funds -- These support a specific agency or cause. If the original charity ceases to exist, becomes obsolete or is unable to perform their charitable purposes, the foundation can redirect funds to a similar organization.
Endowment fund -- Nonprofit organizations can start an endowment with the foundation providing investment oversight on their behalf.
Field of interest fund -- These support particular interest areas, causes or geographic areas.
Scholarship fund -- Donors can structure the fund to benefit students at any education level or for a specific institution.
Unrestricted fund -- The foundation's board sets grant priorities for this fund, which allows the foundation to meet shifting community needs.
Fairy Godmother Fund
One of the newest endowments managed by the foundation is known as the Fairy Godmother Fund. Fourteen women formed the fund and set a goal of building a $100,000 endowment in 2004.
With the foundation taking care of red tape and administration of the fund, the godmothers can concentrate on raising cash.
"It's a wonderful project," Corless said. "They expect it to be a $100,000 endowment that will help women in dire emergencies that are not served by other area agencies."
Corless said the Fairy Godmother Fund and the Douglas County Dental Clinic fit the vision that Oldfather's donation brought to life.
Both organizations will better the lives of people in Lawrence, Eudora, Baldwin and elsewhere in the county.
"We have a long way to go," Corless said, "but we have no doubt that we will continue to grow and make a difference."
Copyright 2018 The Lawrence Journal-World. All rights reserved. This material may not be published, broadcast, rewritten or redistributed. We strive to uphold our values for every story published.