Nancy Milleret will have a front-row seat to watch aviation history.
The Tonganoxie High School graduate is one of eight Kansas State University students selected to aid the GlobalFlyer project, which aims to be the first solo, nonstop flight around the world.
"I'm getting a chance to work toward a world record," said Milleret, a junior. "I never imagined I'd get to do something like that. It's really cool."
In early February, millionaire adventurer Steve Fossett will take off from Salina in an experimental GlobalFlyer jet, attempting to circle the globe in less than 80 hours. The project is being sponsored by Virgin Atlantic and its chief, Richard Branson.
The flight initially was scheduled for early January but was rescheduled this month to give the mechanics and flight crew more time to prepare.
The jet was designed by Burt Rutan, who also designed SpaceShipOne, which flew into space this fall to claim the $10 million X-Prize as the first private spaceship to achieve the feat.
Salina was selected as a takeoff and landing site because of its mid-continental location and a two-mile runway left behind when Schilling Air Force Base closed. K-State now operates its Salina campus at the former base site.
The GlobalFlyer team requested student assistance in the project, said Dennis Kuhlman, K-State's dean at Salina.
"One of the most exciting things for K-State is the opportunity to involve our students," he said. "Steve Fossett has requested that our students be involved, and I'm so excited that they will get such a unique hands-on experience at an international event."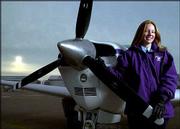 Milleret, who is studying to become a corporate jet pilot, is one of two students selected to work in mission control. Another six students were picked to work on the airplane's maintenance team.
Milleret's team will be in the College Center, which usually houses administrative offices and a cafeteria. She said Fossett wouldn't communicate directly with air traffic controllers around the world; instead the mission control team will serve as an intermediary between Fossett and air traffic controllers.
That's a big honor, Milleret said, considering she didn't apply to work on the project.
"I got a call saying I got picked," she said. "I was kind of shocked. I didn't realize I'd be qualified. I figured it would go to somebody older. It's a pretty gracious thing to do, to help future pilots out."
Milleret said she thought Fossett would be able to complete the flight.
"I think it's definitely feasible," she said. "Breaking a world record is a pretty cool thing to do, to push aviation farther."
Copyright 2018 The Lawrence Journal-World. All rights reserved. This material may not be published, broadcast, rewritten or redistributed. We strive to uphold our values for every story published.