A Lawrence couple were still giddy with excitement Monday after receiving the top award given to Kansas State University alumni this weekend.
Ross and Marianna Beach received the Medal of Excellence from KSU on Friday.
"It was fabulous," Ross Beach said. "Marianna and I, I don't believe we've come down yet."
The Beaches are KSU graduates and longtime supporters of the university's programs, as well as projects at Kansas University and throughout the state. Their gifts have supported the Marianna Kistler Beach Museum of Art at KSU, the Beach Center on Disability at KU, the Beach/Schmidt Performing Arts Center in Hays and the Sternberg Museum of Natural History in Hays.
The Medal of Excellence has been given only four times since its creation in 1996. The first recipient was former Sen. Nancy Landon Kassebaum Baker.
Ross Beach graduated from KSU in 1940 with a degree in engineering. His career included oil and gas production, ranching, banking and media ownership. He is president of Kansas Natural Gas Inc. in Hays and chairman of Douglas County Bank in Lawrence.
Ross Beach's other activities have included being president of the Kansas State Chamber of Commerce and chairman of the Kansas Fish and Game Commission, Kansas 4-H Foundation and the Kansas State Fair.
Marianna Beach graduated from KSU in 1941 with a degree in journalism. Her community activities have included serving on the directing council of the Inter-American Children's Institute and the President's Committee on Mental Retardation.
"Ross and Marianna Beach are among K-State's most distinguished graduates," KSU president Jon Wefald said. "This honor recognizes not only the contributions they have made to K-State but to the state of Kansas and the world as well."
The Beaches are no strangers to major awards. Ross Beach received the KSU President's Award in 1989 and was named Kansan of the Year by the Native Sons and Daughters of Kansas in 2001. Marianna Beach has received the Alumni Medallion from the KSU Alumni Assn. and KSU's Distinguished Service Award. She also was named Kansan of the Year in 1988.
But Ross Beach said Friday's award was the best.
"This tops everything we've had happen to us," he said.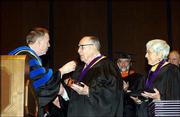 Copyright 2018 The Lawrence Journal-World. All rights reserved. This material may not be published, broadcast, rewritten or redistributed. We strive to uphold our values for every story published.