When Joetta Weaver started working for Kansas University in 1957, she didn't have any particular feelings toward insects.
Now, she gushes over the critters.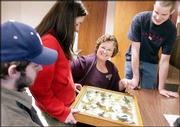 "Can you think of a more interesting thing?" she said. "Think of the behaviors. What would life be without the insects? Butterflies, bees, beetles ..."
Weaver, who worked for KU for 47 years -- including 41 years in entomology -- will retire at the end of the month. She was recognized during a reception Monday at Snow Hall, which houses KU's collection of 4.3 million insects.
Weaver started as a secretary at KU but eventually worked her way up to the museum specialist position, pinning insects for storage and organizing KU's vast collection in cabinets.
She especially loved the bees collected by Charles Michener, a previous director of the entomological museum and internationally known expert on bees. Weaver, who also is a quilter, said she wished she could capture some of the colors in the bees seen under a microscope for her quilts.
A former curator at the museum, Rob Brooks, named a species of African bee after Weaver about six years ago.
"It was flattering to think that someone thought enough of me to do something that would be there forever," she said. "It wouldn't die like me. It would always be there."
While she loves the insects, Weaver said she would most miss the people in the entomology department, especially the students.
The feeling is mutual, said Steve Ashe, curator of the division of entomology.
"Joetta's an enormously personable and loyal person," Ashe said. "She does the job not just because she gets paid for it. She has loyalty to the program and the people and students here."
Copyright 2018 The Lawrence Journal-World. All rights reserved. This material may not be published, broadcast, rewritten or redistributed. We strive to uphold our values for every story published.