Even when asked by a Jayhawk basketball player, 9-year-old Anthony Hurtado said he didn't know whether Kansas University would be his top choice for college someday.
"It depends on which college has a good education," the fourth-grader told his new friend.
"Oh, that's good," basketball player Alex Galindo responded.
Anthony and Galindo talked at New York School, 936 N.Y., on Tuesday morning during the second day of visits from KU athletes there to encourage the children to work hard to make their dreams come true. About 50 athletes participated over the two days.
The visits also were to remind the college students, who are members of Phillip Lowcock's Life Skills for Student Athletes classes, to be good examples because children look up to them, said Phillip Lowcock, director of life skills programs in the KU Athletic Corp.
Galindo, a KU freshman originally from Puerto Rico who has not yet decided on a major, sat in the library Tuesday with Anthony and a globe.
The pair discussed science, soccer and their dogs. Galindo pointed out Puerto Rico on the globe and drew the U.S. commonwealth's flag at Anthony's request.
"How hard was it when you moved from Puerto Rico to America?" Anthony asked.
"It was real hard," Galindo said. "They used to make fun of my accent."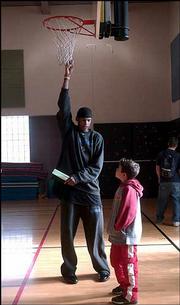 Galindo encouraged Anthony to work hard in school.
"You want to be a professional [soccer player]?" he asked. "First you got to get your degree. Are you a good student?"
Fellow KU freshman Lauren Hommell, a tennis player from Georgia, teamed with 9-year-old Lidia Strecker.
The fourth-grader said she was thinking about becoming a veterinarian or a dog trainer when she grew up.
KU athletes enrolled in the life skills class have visited New York each semester for the past three years, Lowcock said.
The life skills class teaches things such as time management, sportsmanship and dealing with the media. The university strongly encourages athletes in their first year on campus to take the class, Lowcock said.
After this week's visit, the KU athletes will each write a letter to the student they met. Some likely will continue corresponding after the semester ends, Lowcock said.
Fourth-grade teacher Kim Gamble said she thought the visit emphasized to her students the importance of doing more than sports.
"It was nice to have someone who was not an adult talking to them," she said. "A lot of my kids say, 'Oh, we'll be NBA players,' and I say, 'You need to go to college so you'll have something to fall back on.'"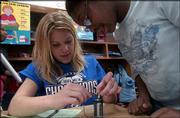 Copyright 2018 The Lawrence Journal-World. All rights reserved. This material may not be published, broadcast, rewritten or redistributed. We strive to uphold our values for every story published.