Lawrence's high school students tend to smoke considerably more marijuana and drink a little more alcohol than their peers across the state, according to recent surveys.
Across the state, 55.9 percent of high school seniors reported using alcohol at least once in a 30-day period. In Lawrence, it was 59.9 percent.
"So we're pretty close," said Diana Ash, a prevention team leader with Lawrence public schools. "Marijuana usage is where we see the most discrepancy."
A report to be released today by the Kansas Action for Children advocacy group showed that during the 2003-04 school year, 18.4 percent of the state's high school seniors admitted using marijuana at least once in a 30-day period.
In Lawrence, the rate jumped to 28.2 percent -- nearly one-third higher than the state average.
"The No. 1 reason is availability," Ash said. "When we asked eighth-graders (in Lawrence) how easy it was to get marijuana, 21.4 percent said 'very easy.' Statewide, the figure was 14.6 percent.
"The fact that it's easier for a young person to get it here," Ash said, "makes it easier if that young person is curious -- to satisfy that curiosity."
She said she wasn't surprised that more than one of four high school seniors in Lawrence used marijuana with some regularity, or that six of 10 were regular drinkers.
"Unfortunately, as a prevention specialist that doesn't sound high," she said. "I wish it did."
The good news: Fewer Lawrence teens are smoking cigarettes than the state average.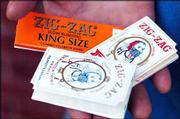 "For (high school) seniors, we're at 22.3 percent," Ash said. "The Kansas average is 26.2 percent."
The Lawrence-based survey was one of many used by Kansas Action for Children to compile its annual Kansas Children's Report Card. For 2004, Kansas Action for Children gave the state an overall grade of B.
"Though some may say that a B is a good grade, we believe that when a child who has the capacity to get A's on their report card consistently gets B's, we commonly think of him or her as an underachiever. By that measure, Kansas is an underachieving state," said Gary Brunk, executive director at Kansas Action for Children.
Other findings cited in the study:
The number of Kansas children eligible for free school meals increased to 28 percent in 2003-04. That was up from 24.7 percent in 2001-02 and 26.4 percent in 2002-03. The national average is 35.2 percent.
Children living in households at or below 130 percent of the federal poverty guideline -- roughly $2,000 a month for a family of four -- are eligible for free meals at school.
For the past three years, one of every five Kansas kindergartners had not been fully immunized by their second birthday.
In 2001, 28 Kansas teenagers' deaths involved suicide; in 2003, there were 14 teen suicides.
Asked to explain the 50-percent decrease, Brunk replied: "We're not sure why."
The number of Kansas teens between ages 15 and 19 killed in car accidents fell to 77 in 2003 from 86 in 2001.
Brunk attributed the drop to increased seat-belt usage.
"That's an area we can do better in," he said. "Right now, if you're 14 to 18 years old, you don't have to wear a seat belt. We'd like to see that changed."
Copyright 2017 The Lawrence Journal-World. All rights reserved. This material may not be published, broadcast, rewritten or redistributed. We strive to uphold our values for every story published.