Allen Prell thought earlier this year that Lawrence's Old-Fashioned Christmas Parade rode off into the sunset like a cowboy in a western movie.
But Prell, a safety rider in the parade since it began in 1993, said he couldn't be happier that come 11 a.m. today people will be lined up along Massachusetts Street to watch a stream of horses and wagons.
"I had kind of written it off," he said Friday morning. "But I was really glad to see that people picked it up to make sure it would happen again. A lot of us in and involved with the parade have become friends. Every year, this is like a reunion."
The parade was in danger of being canceled this year because the Eldridge Hotel, its major sponsor, went into bankruptcy and was sold. CornerBank, 4621 W. Sixth St., took over the sponsorship, and staff members became a driving force in funding the parade, which will cost a little more than $16,000.
"It's been a lot of work, but we've had a lot of fun doing it," said Barbara Braa, who works for CornerBank and volunteered to help organize the parade.
Braa said the 11th Annual Old-Fashioned Christmas Parade would start at the intersection of Seventh and Massachusetts streets and end at about 12th and Massachusetts.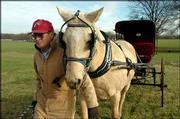 On Friday, people riding in the parade checked in at the Douglas County 4-H Fairgrounds. There are 121 entries, and about 95 of them involve a wagon or buggy. Braa said there should be about 280 horses and 440 people in the parade.
"We have some riding groups in the parade, too," Braa said. "One of them is the Wild Women of the Frontier, and they are based in Topeka and Americus. They're pretty well-known. They wanted to shoot their guns in the air with blanks. But they won't since this is an all-horse parade and many of the horses may not be used to that."
Copyright 2018 The Lawrence Journal-World. All rights reserved. This material may not be published, broadcast, rewritten or redistributed. We strive to uphold our values for every story published.