Freshman Danny Wolff is picking up where his older brother left off.
Free State High lost standout Chris Wolff from last year's state-championship team, but the younger sibling won two events Thursday in the Firebirds' season-opening swim meet at Lawrence Indoor Aquatic Center.
"Since I'm in Aquahawks I expect to do well," Wolff said, "but I didn't expect to win two events or get a second and a third."
Wolff won the 200-yard individual medley and also swam a leg of the winning 200 freestyle relay with Marshall Taylor, Stephen Skepnek and John Armstrong. Wolff was second in the 100 butterfly and third in the 200 medley relay with Spencer Flannigan, Ben Chapin and Taylor.
His 2:19.51 in the 200 IM was a state-consideration time.
"I want to try and make state," Wolff said. "That's my main goal."
Wolff started swimming with the Lawrence Aquahawks when he was in second grade. While some members of that club team won't join the Firebirds until January, Wolff decided to go wire-to-wire with FSHS.
"I wanted to experience high school for the whole season," he said. "It's my freshman year, and I wanted that experience."
The Firebirds were without seniors Anthony Portela, Chris Sellon, Nathan Schriner and sophomore Chase Torgerson -- all members of last year's championship squad -- on Thursday, but FSHS finished just 30 points behind winner Shawnee Mission South in a five-team field.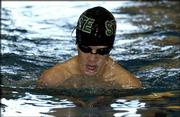 "I look at who's here and what they're doing, and I'm very pleased," Free State coach Annette McDonald said. "They worked very hard the last couple of weeks. They deserve credit for being second today. Shawnee Mission South had 36 swimmers, and we were using 20."
Free State had a strong showing in diving with juniors Will Armstrong and Todd Lee finishing second and third.
Flannigan finished third in the 100 butterfly, one spot behind Wolff, and Skepnek was fifth. Flannigan also was second in the 100 backstroke and was a member of the second-place 400 freestyle relay with John Armstrong, Skepnek and Marshall.
SMS won with 544 points, and FSHS finished with 514. Blue Valley was third, followed by Lawrence High (304) and Leavenworth (210).
Sophomore Marcus Barnoskie was the top performer for LHS. He won the 500 freestyle in 5:58.26 -- well ahead of runner-up Kevin Felix of Blue Valley (6:13.82). Barnoskie was second in the 200 freestyle.
LHS had 16 freshmen or sophomores in its lineup Thursday.
"There's still a lot of learning to do," Lawrence coach Ryan Adams said. "Some of the relays will be drastically different in our next meet. We know who is faster now. This is a learning experience for everyone."
Both city teams will compete Wednesday at Manhattan.
Copyright 2018 The Lawrence Journal-World. All rights reserved. This material may not be published, broadcast, rewritten or redistributed. We strive to uphold our values for every story published.