When Lawrence High begins winter soccer workouts next week -- more than three months before the start of the season -- players can thank juniors Whitney Lopez and Megan Johnson for all the extra running and weightlifting they will be doing.
Lopez and Johnson each served on the search committee that interviewed six candidates for Lawrence's head-coaching vacancy. After LHS introduced Jason Clark on Thursday, Lopez said the new head coach's commitment to an offseason program had made an impression during his interview.
"The past two years, we haven't done winter conditioning, and it showed at the beginning of the year," said Lopez, whose team finished 2-14-1 last spring. "That will help a lot. Most of the girls who are focusing on soccer will be here. If you start out in better shape, you'll be more confident knowing you can keep up with other teams."
The Lions haven't been able to do that in the past. Clark inherits a program that never has had a winning season.
"I'm not concerned by that," said Clark, a native of Brisbane, Australia, who is a postdoctoral researcher in Kansas University's pharmaceutical chemistry department. "The talent pools aren't going to change that much. I think it's much more about players' attitudes. If players don't believe in themselves, it doesn't matter what you teach them. You have to get over the hump of them not believing in themselves."
Clark came to the United States in 1994 to work in a research lab at Massachusetts Institute of Technology and later coached club teams while continuing his education at Purdue. He posted three winning seasons in three years (1998-2000) at Benton Central High in Fowler, Ind., despite the fact that it was a new program.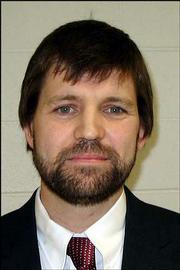 "I started with less at Benton Central," said Clark, who took a break from coaching to focus on academics. "I don't see why we can't be competitive."
Clark replaces last year's co-coaches, Matt Makens and David Platt. Makens took a job in Wichita, and Platt resigned because he had too many other obligations. Platt, a social studies teacher, coaches boys soccer, is an assistant boys basketball coach and sponsors student council and the geography club.
"It's nice to have someone focused on soccer," Lopez said of Clark. "He really knows the game."
LHS athletic director Ron Commons said assistant Mike Powell would return, while two other assistant positions needed to be filled.
Copyright 2018 The Lawrence Journal-World. All rights reserved. This material may not be published, broadcast, rewritten or redistributed. We strive to uphold our values for every story published.