Democrat Nancy Boyda on Saturday said Republican U.S. Rep. Jim Ryun had lost touch with a district that was hurting economically, while Ryun defended his accomplishments and said the economy was getting better.
The two candidates -- vying to represent the 2nd Congressional District, which includes most of Lawrence west of Iowa Street -- were campaigning in private homes to drum up support and raise funds.
In introducing Ryun, of Jefferson County, at the home of David and Carmen Penny, 643 Tenn., Ryun's wife, Anne, said her husband had been chosen by God to serve in Congress.
"Jim is doing exactly what he has been called to do. God has prepared him for this time," she said.
Ryun, who is seeking re-election to a fifth term, said he wanted to make permanent tax relief measures, such as the $1,000 per child tax credit, which could expire at the end of this year.
He also defended the war in Iraq, saying that he felt it was disrupting terrorism, and the work of private contractors in rebuilding Iraq.
He also said the economy was improving. "There are good things that are happening," he said.
Bob Curtis, of Lenexa, was among the approximately 50 people at the event. Although he doesn't live in Ryun's district, Curtis said he planned to support him financially.
"He's a steady, solid Republican," Curtis said. "He's a no frills, down-to-earth kind of guy."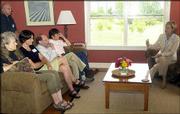 Carmen Penny agreed, saying, "Jim is a very strong, moral individual."
Earlier, Boyda, of Topeka, spoke to about two dozen people at the farm home of Dan Nagengast and Lynn Byczynski, 966 E. 800 Road.
Boyda, who was in the pharmaceutical business, said the federal government should reduce the costs of prescription drugs by negotiating with drug companies through Medicare and restricting the escalating amount spent by drug makers on advertising.
She called for better federal trade agreements to improve the economy and increased funding for public schools under the No Child Left Behind law. On that front, she said the federal government should allow states to opt out of the education law if the government won't fund it.
She criticized Ryun over the state of the economy and chastised him for his recent criticisms of Kansas school officials who complained about the lack of funding under No Child Left Behind.
"Jim doesn't understand the real struggles that are going on around here," she said.
After hearing Boyda, Richard Rawlings, of Lone Star, said he was impressed. A registered Republican, Rawlings said, "I feel that perhaps Congressman Ryun is lacking."
Rawlings and his wife, Deb, a math teacher at Santa Fe High School, said they were concerned about the rising cost of health care and the war in Iraq. With two boys, ages 13 and 8, Deb Rawlings, who is a Democrat, said, "I'm definitely concerned."
Ryun denied he was out of touch with the district, as Boyda suggested. "You're entitled to say anything you want in the campaign. I feel like I'm very much in touch," Ryun said.
He said he returned to the district two to four weekends every month, and this year his office processed 24,000 letters from constituents.
Copyright 2018 The Lawrence Journal-World. All rights reserved. This material may not be published, broadcast, rewritten or redistributed. We strive to uphold our values for every story published.