Plans for a Kansas University dinosaur exhibit at Science City are proceeding despite concerns about funding and attendance at the museum in Kansas City, Mo.
"Even at their depressed visitor numbers, we can reach a lot of people we can't reach here," said Brad Kemp, associate director of the KU Natural History Museum. "Those numbers aren't worrisome."
KU and Science City, which is located in historic Union Station, announced their partnership in January. Plans call for a $1 million display that will show fossils being prepared for display. The display will be staffed by paleontologists from KU and volunteers trained by KU and Science City.
Specifically, the exhibit is being designed to prepare and exhibit Lyle, a 150-million-year-old, 60-foot-long camarasaur discovered by researchers from KU in Wyoming.
Since the partnership was announced, a task force looking at the future of Union Station has raised concerns about funding and attendance. Operating revenue has dropped from $9.7 million in 2001 to $8.1 million in 2003, and attendance dropped from 863,886 to 465,962 during the same period.
The latest speed bump for the dinosaur project, which initially was to be in place by the end of the year, came last week. The Bistate Commission was set to vote on approving $1.3 million in tax dollars for the dinosaur exhibit and a railroad exhibit, but postponed the decision to gather more information.
The dinosaur project would receive about $500,000 of the $1.3 million. The remaining $500,000 toward the exhibit is expected to be raised in private funds.
Despite the concerns, Leonard Krishtalka, director of the Natural History Museum, said KU remained dedicated to the project.
"The plan is going forward," he said. "We feel terrific about the situation. It's a win-win for KU, the (Natural History) Museum, Union Station and the Kansas City regional area."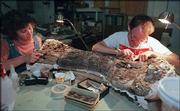 Krishtalka said KU stood to gain by showing off its resources and research potential to a Kansas City audience, which also could help with fund-raising for the Lawrence facility. Because the university isn't contributing money to the project, he said there was little financial risk.
Science City officials say they, too, are committed to completing the dinosaur project.
Linda Segebrecht, chief operating officer for Project Explorer, a consulting firm helping design the dinosaur exhibit, said she thought the Bistate Commission funds would serve as seed money for private donations.
"I think a lot of people are waiting in the wings to see what the next step is," she said. "We're on the edge of something big."
Segebrecht said the KU partnership could be a cornerstone for revitalizing attendance at Science City. She said research shows dinosaur exhibits typically increase museum attendance by 20 percent.
She said Science City's attendance was following a typical museum pattern, with a dip after five years of operation.
"Kansas City never had a science museum," she said. "I don't think they know how to react (to the drop in attendance). Science City is really doing what any science museum should do, and that's reinvent its exhibits every few years."
Copyright 2018 The Lawrence Journal-World. All rights reserved. This material may not be published, broadcast, rewritten or redistributed. We strive to uphold our values for every story published.