Their $500 million goal has been met, but leaders of the largest fund-raising drive in Kansas University history aren't coasting to the Dec. 31 campaign finale.
In fact, they added another $100 million to their goal to reach by the year's end.
"We're just driving hard to get this thing wrapped up and rolled up," said Forrest Hoglund, chairman of the KU Endowment Association's "KU First: Invest in Excellence" campaign.
The campaign, which began quietly in 1998 and had a public kick-off in 2001, hit its $500 million goal in November. The Endowment Association then set a new goal of $600 million.
The most recently announced campaign total, from March, is $539 million. Another update is expected in November.
"We felt with the momentum we were experiencing we still had people who wanted to participate and still had unfunded objectives," said Dale Seuferling, the Endowment Association's president. "Even though we achieved the aggregate number doesn't mean every need is met."
That's because some donors suggest funding projects of their own that weren't on the original list of KU First priorities. Several high-profile projects -- including an addition to the Spencer Art Museum, a dinosaur building for the Natural History Museum, a second scholarship hall -- remain unfunded.
"The main thing we'd like is to get closure with a number of very good potential donors that have shown interest -- to get it all signed up and counted," said Hoglund, a semi-retired energy executive who lives in Dallas.
Another focus is broadening the donor support base. A room full of KU students is making phone calls, contacting alumni for donations during the evenings, and the Endowment Association has initiated direct-mailing campaigns as well.
"The stage we're at now is to make this as broad-based as possible," Seuferling said. "It develops a pattern for people to be involved and participate. It grows them into donors who make large gifts in the next campaign."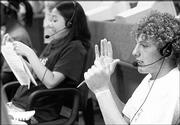 Preliminary numbers show the Endowment Association contributed $76 million to the university during the fiscal year ending June 30. That's down $9.1 million from the previous year, mainly because of a decrease in construction spending.
But fund raising -- both for the endowment that supports the university and one-time capital gifts -- increased 27 percent to $82 million last year.
Hoglund said that's remarkable, considering the economic downturn following the Sept. 11, 2001 terrorist attacks. The attacks occurred just days after the campaign was announced publicly.
"Things are much better," he said. "The market's better. So far as I know, we have not had one person go back on a pledge, which is unusual in a market drop like that."
Seuferling said the campaign has contributed to many levels of the KU campus -- from scholarships and professorships to new buildings.
"We're very pleased," Seuferling said. "It's becoming evident as you look at all KU campuses that change has occurred as a result of the KU First campaign."
Some of the key donations and pledges announced during the "KU First: Invest in Excellence" campaign:¢ Hall Family Foundation, Kansas City, Mo., $42 million for construction of a bioscience building at the Medical Center, a building at the Edwards Campus and a new building for the Hall Center for the Humanities; also pays for a School of Business professorship.¢ Kansas Masonic Foundation, $15 million toward cancer research at the Medical Center.¢ Charley Oswald, Edina, Minn., $10 million for the department of economics, School of Business and unrestricted funds.¢ Charles and Mary Jane Spahr, Shaker Heights, Ohio, $6.5 million to the School of Engineering.¢ Robert Eaton, Naples, Fla., $5 million for Eaton Hall at the School of Engineering.¢ Forrest and Sally Hoglund, Dallas, $4 million for the Hoglund Brain Imaging Center at the Medical Center.¢ Roger and Annette Rieger, Seattle, $3 million for a women's scholarship hall.¢ Victor and Helen Regnier Charitable Foundation, Leawood, $3 million for an Edwards Campus classroom building.¢ Thomas and Barbara Page, Urbana, Ill., $2.3 million estate gift for the public administration program.¢ Cheryl Womack, Mission Hills, $2 million for a new softball stadium.¢ Kathy and Dusty Loo, Colorado Springs, Colo., $1.5 million to the Spencer Museum of Art.¢ Fred and Virginia Merrill, Leawood, $1 million for a child language professorship.¢ Grant and Ellen Kelley, Lake Quivira, $1 million for the Max Kade Center for German-American Studies.¢ Douglas and Laura Wheat, Dallas, $1 million for a School of Law professorship and library holdings.¢ Bill and Judy Docking, Arkansas City, $1 million for a School of Business professorship and unrestricted funds.¢ Norge Winifred Jerome, Shawnee, $1 million toward support for a faculty member and a graduate student at the School of Social Welfare.¢ Belfour and Betty Joe Lorbeer McMillen, Fort Worth, Texas, $1 million in support of math faculty and to the dance department.
Copyright 2018 The Lawrence Journal-World. All rights reserved. This material may not be published, broadcast, rewritten or redistributed. We strive to uphold our values for every story published.