Paulina Cooper isn't sure where she got her interest in trampolines. The 6-year-old Lawrence girl just knew she liked them.
Thanks to Make-A-Wish Foundation of Kansas, Paulina can jump to her heart's content on her own, family-size residential trampoline in her front yard.
"I like to do flips," Paulina said Saturday, performing a series of them as her friends looked on.
Although her birthday was a week earlier, she celebrated Saturday with a party that included trampoline jumping, pizza and other activities. The day's entertainment was all the more poignant because Paulina suffers from an inoperable, life-threatening brain tumor.
"We're praying for a miracle, but this is supposed to be a happy day," said Paulina's mother, Ann Cooper.
Paulina's tumor was diagnosed in August 2003, after Ann and her husband, James Cooper, noticed their little girl was falling down more than usual and having difficulty hearing. After the diagnosis, Paulina underwent a series of radiation treatments, which reduced the tumor by 80 percent.
But the tumor is growing back, Ann Cooper said.
Make-A-Wish volunteers interviewed Paulina last year and found that one of her wishes was for a trampoline. And in December, Icon Health & Fitness provided a large, JumpKing model at a substantial discount, said Eric Miller, a Make-A-Wish volunteer.
Because of winter weather, however, Paulina hasn't been able to enjoy the trampoline until the past few weeks. She shows little sign of her illness.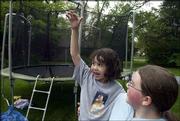 "She has a little bit of problem with her eyes," Ann Cooper said.
Miller, of Topeka, and another Make-A-Wish volunteer, Holly Colbert, Lecompton, helped organize Saturday's party, attended by about 20 children and other parents. Top Step Gymnastics of Meriden helped with other activities, and Glory Days Pizza supplied the pizza.
"The main thing you focus on is the kid," said Miller, who has been involved with making wishes come through for about 25 children in recent years.
"The kids are not special because they have an illness; they are special because they are kids," Miller said.
The Kansas Make-A-Wish Foundation is a nonprofit organization. Since 1985 it has granted more than 600 wishes for children from age 2 to 18 who suffer from life-threatening medical conditions.
Copyright 2018 The Lawrence Journal-World. All rights reserved. This material may not be published, broadcast, rewritten or redistributed. We strive to uphold our values for every story published.