Chris Deman dabbed robin's egg blue paint to a fast-becoming, polka-dot juice glass as she spoke about her passion for crafts.
"I've been in crafts all my life," Deman said. "My mom always said, 'Chris, you should really make things. You could sell them.'"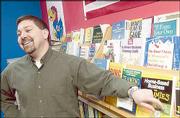 Deman's dining room, a mini-warehouse of craft supplies awaiting retail space, reflects her fairly recent embrace of her mother's long-ago suggestion. Deman's goals are to obtain financing, lease retail space and open Crafty & Company in June or July.
But how does a business novice like Deman take her business from the wellspring of a dream to a customer-pleasing, cash-register ringing reality.
For the 6.2 percent of the U.S. population considering starting a business, that's where the Kansas University Small Business Development Center enters. The center, which helps entrepreneurs cultivate their passion, is in the Lawrence Chamber of Commerce building, 734 Vt.
"To me," the center's regional director Curt Clinkinbeard said of entrepreneurs, "it's very fun to encourage that passion and to give their creativity and their excitement teeth."
Those "teeth" are cut on the homework that Clinkinbeard and Maggie Bornholdt, the center's administrative specialist, dole out to all would-be business owners.
And the first assignment is to step back.
Stepping back
"Oftentimes the process starts by stepping back and observing that business and trying to understand the dynamics that it's going to be going through," Clinkinbeard said.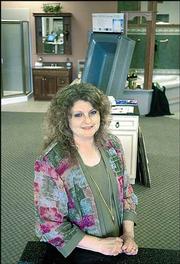 Stepping back allows the entrepreneur to seek answers to questions that foster an overall view of the business.
The homework asks the entrepreneur to decide on the products or services the company will bring to the market, whom their customers will be, what is transpiring in the lives of the customer base, whether it be individuals or businesses, and how the money will flow through the business.
With its free one-on-one counseling and low-fee seminars, the center also tailors itself to help those who are skilled at a particular job, such as a craft maker like Deman, and helping them turn their skill into a business, such as Crafty & Company.
For those entrepreneurs who come to the process of owning a small business who have worked in that business for some time, often they are skilled at what they do.
But having the technical skill alone does not ensure business success.
Sandy Henley had run other people's businesses since she was 18 years old, but her eyes were opened to a new world of business when she decided to purchase Kitchen & Bath Designs of Lawrence, 1800 E. 23rd St., two years ago.
Henley had been working at the business with a silent partner since September 2001 before she began making preparations to purchase the business outright a year later.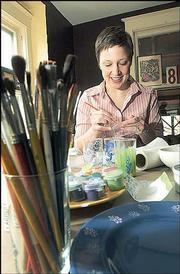 That decision led Henley to discover that "there's another side of the desk."
Another side of the desk
For Henley, moving to the other side of the desk meant "going into the really deep financial parts" of the business in order to get a true evaluation of it. The process of gathering all of the information potential lenders needed took about six months.
With Henley at the helm, Kitchen & Bath Designs has seen its business grow "20 to 30 percent" since she opened the doors in March 2003.
Henley said that the Kansas University Small Business Development Center was with her every step of the way and continues to be helpful with calls and seminars.
Seminars
Some of those seminars have included subjects such as creating a business plan, health insurance and marketing.
Maria Martin, owner of Southwest and More, 727 Mass. and president of Downtown Lawrence Inc., said she has attended a number of the center's seminars.
Martin turned to the center in 1996 when she began considering starting her own business. Then a novice to retail business, Martin said that the center walked her through both the creation of a business plan and the process of applying for a Small Business Administration loan.
"I constantly recommend them (the center) to anyone who is thinking of starting a small business," Martin said.
For more information, phone the Kansas University Small Business Development Center at 843-8844.
What are the most frequently asked questions by Kansas University's Small Business Development Center customers?¢ What are the steps to starting a business?¢ How do I get financing for my business?¢ How do I increase sales?¢ How do I best manage growth?¢ How do I better manage people?Five offerings the center gives clients¢ Advice and education regarding small business management (seminars and one-to-counseling)¢ An objective, outside opinion¢ Business assessment, strategic review¢ Referrals to other small business resources¢ Business plan assistance and reviewStatistics¢ There are 22.9 million small businesses in the United States. There are 17,000 companies with more than 500 employees¢ More than 50 percent of nonfarm of the gross domestic product is through small business¢ 75 percent of net new jobs are created by small businesses¢ Half of all private-sector employees work for small businesses.¢ 6.2 percent of the U.S. adult population is considering starting a small businessKansas numbers¢ 65,000 small businesses with employees¢ 108,000 small businesses with just the owner, no employees¢ 63,000 farms¢ 2,000 businesses with 500 or more employeesLawrence small business estimates¢ Approximately 2,350 small firms in Lawrence with fewer than 100 employees.¢ Approximately 5 private companies in Lawrence employ more than 500 people.¢ Approximately 25 private companies employ between 100 and 500 people.
Copyright 2018 The Lawrence Journal-World. All rights reserved. This material may not be published, broadcast, rewritten or redistributed. We strive to uphold our values for every story published.