February snowstorms may result in relief for farmers in Douglas County, which has endured drought conditions for nearly three years.
Farmers are cautiously optimistic about the boost in moisture.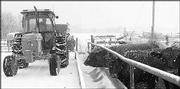 "We're in real good shape right now," said Mike Wintermintle, who raises corn, soybeans and cattle on his farm in southern Douglas County. "A buddy of mine who was digging postholes said it was muddy all the way down, about 24 inches."
In early March, Wintermintle said it was much wetter than the previous March, yet he knew more rain couldn't hurt.
"After these past few years, we'll take whatever we can get, even though it's pretty miserable coming down this time of year," he said.
Dan Nagengast, who farms just south of Clinton Lake, said he would take any moisture.
"It looked like we had maybe 5 to 6 inches of snow that stuck around for a few weeks," Nagengast said in early March. "That certainly helped the moisture profile of the top 4 or 5 inches of soil. But there was not enough to cause any kind of runoff event. Our ponds have been dry for the past two years, and they are all but dry right now."
Nagengast raises horticulture crops and some vegetables that are especially dependent on regular rainfall or irrigation. Without water from ponds or an adequate source of well water, Nagengast is forced to irrigate with rural water during dry times.
Bill Wood, the Douglas County extension agent for agriculture, said in March that it was too early to know if the February snowfall would boost soil moisture levels enough to satisfy the needs of farmers.
"The majority of the county is behind where it would like to be," Wood said. "Accumulated snowfall can vary quite a bit on moisture content. A foot of snow can yield as little as a half inch of water or a lot more. It all depends on how dry or how wet it is."
Wood said three years of drought conditions had dried out the soil profile in much of Douglas County. A soil profile is a measurement of how moist the soil is 4 feet to 5 feet below the surface.
Through noon March 28, Lawrence had picked up 3.71 inches of moisture during March and 5.82 inches for the year.
Last year Douglas County's farmers were among those in 92 of the state's 105 counties who could apply for drought disaster loans.
But now Lawrence and most of eastern Kansas are no longer in a drought, weather and climate experts say. Last year's scorched farm fields are recovering.
"Late-winter and early spring rains have done well," said Darren Hibdon, K-State Research and Extension agricultural agent for Franklin County, in late March. "You can see the wheat really starting to take off and grow."
Copyright 2018 The Lawrence Journal-World. All rights reserved. This material may not be published, broadcast, rewritten or redistributed. We strive to uphold our values for every story published.