More than 90 Kansas University graduates were inducted into the KU Alumni Association's Gold Medal Club during two ceremonies Saturday.
KU Chancellor Robert Hemenway welcomed the members into the club, which is open to anyone celebrating their 50th class reunion or higher.
Below are biographical sketches on the new members.
Anne Marty Aikin, c'54 -- Anne has led an active life distinguished by service and involvement in groups such as Kansas City Young Matrons and the Symphony League, while also teaching piano and voice privately for more than 30 years. She has enjoyed traveling the world and welcoming scores of international visitors into her home as a host for People to People International. Much of her time and energy is devoted to her three sons, all KU alumni, and their families, which include seven grandchildren. Anne and her husband, George, live in Overland Park.
Donna Davis Albright, c'54 -- After working as an engineering aide and a school secretary, Donna enjoys genealogy and being involved in Girl Scouts, American Association of University Women and Daughters of the American Revolution. Two of her three children are KU alumni, and the eldest of her five grandchildren is a KU freshman. Among Donna's special KU memories are meeting her future husband, Ernest Albright, Class of '55; living in Miller Hall, and sidewalk visits with revered economics professor John Ise. Donna lives in Hutchinson.
Earle S. Alexander, a'54 -- Earle has received the Distinguished Alumnus Award of the KU School of Architecture and Urban Design and is a Fellow of the American Institute of Architects. He retired as a partner in the architectural firm of Pierce, Goodwin, Alexander & Linville, and now devotes time to travel, motorcycling and tennis. He is president of the Houston Racquet Club, a director of Texas American Bank and an elder of the Memorial Drive Presbyterian Church. He and his wife, the former Nancy Gilchrist, have two sons, one a KU alumnus, and two granddaughters. They live in Houston.
Nancy Gilchrist Alexander, ed'54 -- Retired after a career in real estate, Nancy enjoys travel, church and volunteer work, along with tennis and bridge. She is an elder of the Memorial Drive Presbyterian Church, and she is active in the PTA, Scouts, Theta Alumnae and the auxiliary of the American Institute of Architects. Topping her list of KU memories are friends, cheerleading trips and professors. Highlights of her life since leaving KU include rearing two sons with her husband, Earle; European travel; and living in Japan in 1954-56. She has two teenage granddaughters. She and her husband live in Houston.
Lynn Burton Atkinson, fa'54 -- Lynn earned her degree in fashion illustration and went on to become an award-winning children's portrait artist in pastel pencil. While rearing two sons, both KU alumni, with her husband and classmate, Bill Atkinson, Lynn found time for volunteer work, supporting numerous arts organizations and community activities in her hometown of Liberal and throughout Kansas. The best recent additions to her life are two grandchildren.
William R. Atkinson, c'54 -- Bill is a retired independent petroleum geologist who lives in Liberal with his wife of 47 years, Lynn Burton Atkinson. He and his family, which now includes two grandchildren as well as two sons, enjoy the great outdoors, including hunting, fishing and horseback excursions to Alaska and Canada, along with ski trips in Colorado.
Robert R. Ball, c'54 -- Bob has done a great deal of talking since graduation -- as a pastor, professional speaker and seminar leader. Though he is now retired, he has lectured in the Seniors Program at the University of Texas, and, in the sub-category of "Nice Work If You Can Get It," he has lectured on cruise ships. Bob has two sons, two daughters and five grandchildren. He and his wife, Lorraine, live in Austin, Texas.
John E. Biegert, c'54 -- John and his wife, Evelyn, live in LaGrange, Ill., where he was minister of First Congregational Church for 25 years. He has been active as a volunteer and board member of many community organizations and has written six spiritual self-help books. Now he spends more time playing tennis and golf, and bicycling. His favorite KU memory is the downtown celebration in 1952 the night KU won the NCAA basketball tournament. Fond memories since then are satisfying years in Prairie Village and La Grange, their 50th anniversary trip to Alaska, and the wonderful times with their two children and three grandchildren.
Raymond E. Borden, b'54 -- Before he retired, Raymond was treasurer of Midwest Sales Co. He has served as president and national director of Financial Executives International. Now he enjoys spending more time with his wife, Nan, and his children and grandchildren. Among his memories are celebrating with the 1952 NCAA basketball champions, enjoying picnics at Potter Lake and working in the registrar's vault in Strong Hall. Raymond and Nan celebrated their 50th wedding anniversary in spring 2003 with a trip to the Gulf Coast, accompanied by their family, and with a renewal of their marriage vows at Danforth Chapel. They live in Overland Park.
Helen Boring, ed'54, g'69 -- Helen is retired from her career in education, and lives in West Covina, Calif., where she serves her church as organist. Helen cherishes her memories of living in many beautiful parts of the country, including Colorado Springs, Tulsa, Shawnee Mission, Lawrence and, since 1970, Los Angeles County.
Bert H. Born, '54 -- Bert retired in 1997 from Caterpillar Inc., where he had worked 43 years, mostly hiring engineers for the company. He played AAU basketball for Caterpillar on a team that won the world title. Bert's hometown of Medicine Lodge has honored him by naming the high school auditorium and a street after him. Remembering his days at KU, he thinks of the "many friends met and kept through the years." He has been active in Scouting and in supporting Alzheimer's programs. He and his wife, Joan, have two sons and three grandchildren. The Borns continue to live in Peoria, Ill.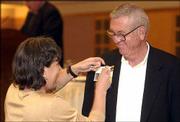 Roberta Link Brack, '54 -- Bobbie started her career by painting porcelain dolls. After she began teaching her techniques to others, she established a successful business selling doll supplies, BB Doll Supplies Inc., in Bedford, Texas. Now semiretired, she continues to attend trade shows. She has five children, 15 grandchildren and one great-grandchild. Her late husband, Richard Lee Brack, was also a 1954 graduate.
John W. Brand Jr., c'54, law'59 -- Jack long ago established himself as one of Lawrence's most trusted attorneys, and he continues his work at his downtown firm, Stevens & Brand. Among numerous professional honors, Jack has been listed in the last four editions of The Best Lawyers in America, was elected a fellow of the American Bar Foundation and in 1999 received the Kansas Bar Assn.'s Outstanding Service Award. He and Barbara Sample Brand, ed'59, have three children and 10 grandchildren.
Anne Conway Burlingame, ed'54 -- Anne is a housewife, mother of two sons and community volunteer in Tulsa, Okla. She is a third-generation Jayhawk and proudly traces her Mount Oread heritage to her grandfather, John A. Edwards, a member of the Class of 1895 who was national president of the Alumni Association in 1909, and her grandmother, Helen Perry Edwards, Class of 1896, who was a trustee of the Endowment Association.
Robert E. Burlingame, b'54 -- Robert is owner and president of Burlingame Engineers Inc., in Tulsa, where he lives with his wife, Anne, also a member of the Class of '54. He has two sons, one of whom is a KU alumnus and fourth-generation Jayhawk.
Kathleen Schmidt Bush, b'44 -- Kathleen retired in 1987 after working for the federal government for 30 years in several agencies, most recently in the Kansas City Payment Center of the Social Security Administration. She enjoys traveling, volunteering and gardening. She and her husband, John, have three children, all alumni, and three grandchildren. The Bushes live in Kansas City, Kan.
Albert D. Campbell, c'54 -- Al retired as president of the Doerr Mercantile Corp. and served 10 years in the Kansas Legislature. After leaving office, he chaired the Alumni Association's legislative advocacy group to increase funding for higher education. He has been president of the Kansas Association of Commerce and Industry and a board member of the Kansas Council of Economic Education and Kansas Children's Service League. He now enjoys playing the piano and organ and traveling in Europe and the United States. He and his wife, Pat, a 1953 KU graduate, live in Lawrence and have two children, both KU alumni, and one grandchild.
John R. Campbell, c'54, m'58 -- John is emeritus professor of surgery at Oregon Health Sciences University, where he was formerly professor of surgery and pediatrics and chief of pediatric surgery, among other positions. He is married to the former Susan Charlotte Baker, Class of '57. They have three children and two grandchildren. Among his hobbies are hunting and fishing, genealogy, and camellia culture. His fondest memory of KU is "The 10 O'Clock Blonde" he saw in front of Haworth every morning. The Campbells live in Portland, Ore.
Beulah Fisher Carrington, c'54 -- Retired after 42 years in the Social Work Department of the Topeka State Hospital, Beulah remains an advocate for people with disabilities. She has served as board member and president of the Topeka Association of the Blind and Visually Impaired, and on the board of the Sunflower Lions of Topeka and the Topeka Minority Housing Authority. At the top of her life's highlights are the births of her two children, her happy second marriage and her three dog guides. She has seven grandchildren and 12 great-grandchildren.
Richard J. Cummings, c'54, m'57 -- In 1998, Dick received the Fred Ellsworth Medallion for his service to KU, including his leadership as the Alumni Association's national chair from 1995 to 1996. He also has helped guide the School of Medicine's Wichita branch, the KU Athletics Corp. board, and the St. Lawrence Catholic Campus Center. Dick retired after 35 years as an otologist at the Wichita Ear Clinic, but he remains an avid golfer and a collector of golf antiques. His KU memories include the 1952 basketball champions and living in the old green Jolliffe Hall. Dick and his wife, Laura, School of Nursing '56, have three sons, one a KU alumnus, a daughter, and 15 grandchildren.
Philip E. Dangerfield, j'54 -- Philip is retired after a career in advertising and marketing, most recently with the firm of Campbell-Bethun, where he was senior vice president and creative director in the company's Chicago office. Now he is fishing, reading and traveling. He says he is fighting getting old and that getting old is winning. Among his KU memories are Sig Ep Bowery Brawls, a half-dozen professors and "a lot of stuff," he says, "I sure as hell wouldn't write down." Highlights of his KU afterlife include founding a product-development company and running it for 15 years. He's grateful for having a "wonderful wife" and a "wonderful son," who is also a KU graduate.
Glen E. Davis, eng'54 -- Glen's parents both graduated from KU, and so did his four children. Another point of pride is that he has cheered for the Jayhawks in Memorial Stadium at almost every football game since 1949, particularly when his son Jim was a four-year starter at offensive tackle. Glen is retired from the Corps of Engineers Kansas City District, where he was chief of construction. He and his wife, Catherine Ann, live in Leawood. Their eight grandchildren aren't yet old enough to attend KU, but the implication is clear.
Delbert L. Fillmore, b'54 -- Delbert and his wife, Susan, are enjoying life in Sunnyvale, Calif., after his retirement from Hewlett-Packard, where he was a division controller. He says H-P is a great company and, in his 35 years there, he applied all he had learned from Professor John Blocker. Among other special KU memories is touring the state with the KU Chorale. He still enjoys singing, along with travel, hiking and genealogical research. Del and Susan have a son and a daughter.
Jane Bock Fortin, ed'54, g'94 -- Forty years after her first KU degree, Jane graduated a second time with a master's in educational psychology and guidance counseling. In the interim she was an Air Force wife, reared four children and taught school five years in Topeka and nine years in Lawrence. Now she lives in Topeka again with her husband, Paul. She says she is grateful for having numerous opportunities to travel and volunteer for community programs. The Fortins also have eight grandchildren.
Keith W. Gallehugh, ed'53, m'57 -- Keith worked for many years as a diagnostic radiologist, and at his 1991 retirement was chief of radiology at the Overland Park Regional Medical Center. He and his wife, Lois, have three children, one a KU graduate, and three grandchildren. In addition to radiology, Keith says he was involved in every aspect of medicine, including tort reform in Kansas. He has served as president of three professional organizations and of the KU Medical Alumni Assn. He and Lois live in Spring Hill.
John Golden, b'54 -- John continues to farm and ranch in Goodland, where he has long been active in politics. He chaired the Sherman County Commission and the Northwest Kansas Planning and Development and Mid-States Port authorities. He led Goodland as mayor and served in the Kansas House of Representatives. John and his wife, Marcia, have three children, two of whom are KU alumni, and four grandchildren.
Janet Stewart Halloran, ed'54 -- A retired elementary teacher, Janet has been active in her church and social service organizations. She has fond memories of her KU dorm life in Corbin and Locksley halls, participating in the Red Peppers and KU Westminster Fellowship, and dating her future husband, Bob Halloran, Class of 1957. With her late husband she enjoyed traveling, participating in the Topeka Jayhawk Club and attending numerous KU athletic events. Their four daughters are all teachers, and Janet feels blessed by their happy marriages and five grandchildren.
Barbara Bowdish Houghton, b'54 -- Barbara is a homemaker and community volunteer in Tulsa, her home for the past 25 years. She has served as a docent for the Philbrook Museum and board member of the Tulsa Philharmonic. She especially enjoys her work on behalf of numerous women's organizations and issues, and though she insists she's "almost retired," she's still a member of the YWCA board. Her husband, Jim, KU b'52 and law'54, is retired from Ernst & Young. They travel often to visit their two sons and a daughter, and five grandchildren.
Phil Hawn, c'54 -- Phil was inducted into the Osborne County Hall of Fame in 2003. This honor may have resulted from his standing watch while friends stole the KU flag from atop Fraser Hall and his founding of the campus humor magazine SQUAT. Or from winning an Emmy as writer of "Laugh-In." Or his scripts for variety shows starring Sonny and Cher, Andy Williams, Barbara Mandrell and Dolly Parton, or the 1985 "Live Aid" worldwide telethon, "ABC's Silver Anniversary Celebration," and "Three's Company." Or for Wee Wisdom's Henrietta the Homely Duckling. In any event, he is retired but still writing, living with his wife, Kathleen, in Coos Bay, Ore. Among his post-KU highlights are marrying Kathleen and having twin daughters at age 59, in 1992.
John W. Heavin, p'54 -- John and his wife, Amy, live in Joplin, Mo., where he is employed by Freeman Health Systems, after operating his own retail pharmacy. In 1978 he returned for a residency in nuclear pharmacy, after which he worked in that field, then in hospital pharmacy, and finally in consulting and management. Among his special memories of his years at KU are basketball in Hoch Auditorium, all-night study sessions and proposing to Amy at Potter Lake. He and Amy have five children, nine grandchildren and two great-grandchildren.
Phyllis Ward Hettinger, b'54 -- Phyllis and her husband, Robert, c'53, law'55, are retired in Novi, Mich., after having lived many years in Pennsylvania and New England. Phyllis enjoys studying her family's genealogy, and is a member of the Northville, Mich., Genealogy Society. Her next goal is to learn to quilt. She and Robert have two children and three grandchildren.
Charles T. Hinshaw, Jr., c'54, m'58 -- Charles is retired from private practice but is active as a medical volunteer. He has served as president of the Kansas Society of Pathologists and the American Academy of Environmental Medicine, and has been a member of several other organizations in the medical field. He and his wife, Bobbie, have three children, one of them a KU graduate, and five grandchildren. The Hinshaws live in Wichita.
M. Norman Hogue, p'54 -- Norman retired in 1994 after 37 years with the Upjohn Co. in various marketing assignments in Hutchinson, Albuquerque, N.M., and Overland Park. Among his interests are travel and his church orchestra. He also enjoys working with Toastmasters Clubs, having chartered six in the three cities where he has worked. He remembers classes and labs in "Old Bailey" and an organic chemistry class taught by Calvin Vanderwerf. He and his wife, Ann, have 10 children in their "blended families" and 24 grandchildren.
Dick R. Hughes, b'54 -- Dick writes "retired" in capital letters followed by an exclamation mark, but he is involved in numerous activities including tennis and table tennis, photography, upland bird hunting, raising bird dogs and working on his "second home," which he calls "My Annex." Filled with all his "hobby stuff," it's two doors down from the house he shares with Pat and features a KU theme. He also has been active in the Sabetha Chamber of Commerce, Kiwanis and the Country Club. He runs all the local tennis tournaments -- as he well should, having been Kansas singles champion a few years ago in the over-55 category and in undisputed possession of more than 50 tennis and table-tennis trophies.
Patricia Roney Hughes, ed'54 -- Pat Roney and Dick Hughes will celebrate their 50th wedding anniversary June 19. They have two children, one a 1978 KU graduate, and three grandchildren. The couple lived in Japan one year and 48 years in the same town, Sabetha, in the same house. When Pat thinks about their years at KU, she remembers Pi Beta Phi, the Rock Chalk Revue, the Savoy basement, panty raids, the 1952 basketball season and W.W. Davis's American People and Economic Botany ("PUD courses!") Among the milestones of life after KU, she lists their marriage, the births of their children, the onset of Dick's deafness at age 40, and the closing of Hughes Clothing after 101 years.
Jack N. Jester, eng'54 -- Jack is retired from Kansas City Power and Light Co. after a career in engineering, sales and marketing, and more than 20 years in management. Among the highlights of his life since '54 are celebrating 50 years of marriage, rearing four children, leading the marketing team that won Kansas City's annual marketing award, working in the same church he grew up in and enjoying fellowship with lifelong friends. Jack and his wife, Zeilla, have two sons, two daughters, four grandchildren and two great-grandchildren.
Joyce Buck Johnstone, ed'54 -- A retired teacher, Joyce taught in Overland Park, North Kansas City, Mo., and Dallas. Since leaving KU she has enjoyed living in other parts of the country, doing research in genealogy and traveling with her French pen pal, with whom her relationship dates to 1945. Joyce and her husband and classmate, Gene, live in Rio Rancho, N.M. They have three children and six grandchildren.
Ronald "Gene" E. Johnstone, c'54, sw'59 -- Gene worked at the University of New Mexico Health Science Center, in the department of child psychiatry, and now works for New Mexico Highlands University. Gene and his wife, Joyce, live in Rio Rancho, N.M. They have three children and six grandchildren.
Douglas Casey Kay, c'54 -- After leaving KU and serving three years as an Air Force officer, Douglas earned an MBA from Harvard and embarked on a successful business career. He retired in 1989 as president and CEO of United States Airlease Inc., in San Francisco, and continues to work independently as a consultant and expert witness specializing in commercial aircraft transactions. He enjoys keeping up with six grandchildren in the families of his three sons, one of whom is a KU alumnus.
E. Allen Kelley, ed'54 -- Al worked 45 years for Caterpillar on various assignments before retiring in Denver and coming home to Lawrence. He considers his career with Caterpillar one of the highlights of his life, along with winning a gold medal in basketball at the 1960 Olympics. But at the top of his list is his marriage to the former Barbara Hampton. They have three children, two of them KU graduates, and 10 grandchildren, ranging in age from 4 to 21.
Myron E. Kelso, p'54 -- Myron practiced pharmacy for 50 years in Wichita and Coffeyville, and though he is retired he continues to work as a consultant at nursing homes. He also has served as a preceptor to aspiring pharmacy students and helped establish the KU School of Pharmacy's field instructor program. In his student days he was president of the Men's Glee Club when it made an RCA record. He has three children, one a KU alumnus, and four grandchildren, one of whom attends KU. Myron lives in Coffeyville.
Charles E. Kimbell, b'54 -- Charles, a retired investor, continues to make his home in Hutchinson, where he and Sharon Lynch Kimbell, ed'58, owned an insurance agency and reared their two children, both of whom graduated from KU. Now that they are free to enjoy their travels, Charles and Sharon enjoy spending winters in California and summers in Colorado. Charles succinctly sums his feelings for Mount Oread by saying, "KU is special," a belief he and Sharon proved in 1989 with a large gift to benefit faculty in the department of theater and film.
Rosemary O. Kline, ed'54 -- Rosemary is proud to join her husband, Bob (b'51), in the exclusive ranks of the Gold Medal Club. As a student, Rosemary was a member of the Chorale, Chorus and A Cappella Choir, and her love of music has led her to support musical groups in Wilmington, N.C., where the Klines live. She serves on the boards of the Wilmington Symphony and WHQR, Wilmington's NPR station, as well as being a fund-raiser for the art museum and working with Alpha Chi Omega alumnae groups. In her role as homemaker and mother of three children she accumulated 26 years in the PTA. She and Bob now have four grandchildren.
Thomas H. Krueger, c'54, law'59 -- Thomas is a retired attorney for Exxon Mobil, where he served as an adviser on exploration and production. He is treasurer of his church and sings in the church choir as well as in the Community Chorale. He also enjoys bridge, cruises and visits with his children. Among his special KU memories are flood cleanup, ROTC summer camp and his Delta Chi pledge brothers. He and his wife, Jean, live in Canton, Ga., where he is director of the Cherokee County Historical Society and the Cherokee Education Enhancement Foundation. They have three sons and a daughter -- two sons are KU graduates -- and seven grandchildren.
Christine Wiley Kubik, c'54 -- Chris has devoted her career to vocal music -- as a teacher, church choir director and singer in the Wichita Chamber Chorale and Symphony Chorus. She also has served on the boards of Stage One and the Center for the Arts. Her KU years were filled with music and friends, and she remains active with Alpha Chi Omega alumnae. She and her husband, Fred, have three daughters and six grandchildren. They enjoy international travel.
Helen E. Smith Lee, ed'52 -- Helen's favorite memory of her KU years is of "burning a hole in Massachusetts" with a bonfire to welcome the basketball team when it returned from the Olympics. After graduation, she moved to the West Coast, where she intended to remain, but while visiting in Utah she became engaged and found herself "stuck" in Salt Lake City. Fortunately, she enjoyed skiing, and she could be seen on the slopes until she was "about 60." She has two children and seven grandchildren.
Elsie F. Lehr, c'46 -- Before retiring, Elsie worked for the American Red Cross for 27 years, the last 15 in management positions. She has fond memories of friends and activities at Corbin Hall. The highlights of her life since leaving KU: "Every day! Marriage ... birth of children, many wonderful friends." Elsie describes her job as "fantastic," and in 1985 she was the first recipient of the National Red Cross President's Tiffany Award for Employee Excellence. She has three children, two of them KU graduates, and three grandchildren. Elsie lives in Augusta.
Lewis K. Leonard Jr., b'54 -- Lew spends 20 percent of his time being an insurance broker and 80 percent being retired. His outside interests include speaking to service clubs, senior groups and associations; following Kansas basketball; volunteering; and gardening. He and his wife, Sondra, have four children -- all "interesting," Lew says -- and all KU graduates, plus four grandchildren. He and Sondra enjoy traveling. They live in Olathe.
Julie Gempel Lindstrom, c'54, g'56 -- Julie worked as a hospital microbiologist. She and her husband, Bill, have four children and five grandchildren. Now that she has retired, she devotes more time to her church, gardening, travel and grandchildren. She and Bill also enjoy travel and the many attractions of Chicago. Their home is in Flossmoor, Ill.
Joyce Henry Maeder, fa'54 -- Joyce's career as an art teacher was interrupted several times because her late husband, Richard, was a national park superintendent, a career that entailed frequent moves among national parks across the country. Recently settled in Wichita, she has become an adjunct professor at Wichita State University. One of her two children and one of her two grandchildren live in Kansas City, so Joyce plans to visit there often. Joyce looks forward to exploring the ancient world in her travels, having already covered most of Europe.
William H. McEachen, c'54, m'59 -- A retired pediatrician, Bill has been involved in numerous child-related organizations and activities, including the boards of Kansas Action for Children and Missouri Citizens for Children. Among the highlights of his career are serving as chairman of three pediatric departments and president of the Greater Kansas City Pediatric Society and KU Medical Alumni Assn. He and his wife, the former Judy Carr, Class of 1958, have two children, one of them a KU graduate. The McEachens live in Leawood.
Diane L. McFarland, c'54 -- Diane worked in KU's housing department as a unit manager of residence hall dining. She reared four children, one a KU graduate, and has two grandchildren, one with a KU degree. Among her memories are Homecoming decorations, games at Hoch Auditorium and being an Alpha Chi Omega and a Red Pepper. In the 1970s she returned to work after having qualified as a registered dietitian. Diane enjoys taking at least one long trip every year.
George R. McNeish, eng'51 -- George established McNeish Oil Operations in Winfield, where he also served as mayor and, for 58 years, played in the city band. He is proud to have developed Cumbernauld Village, a nonprofit retirement center in Winfield, and to have been awarded an honorary doctorate by Southwestern College. George and his wife, Marilyn Lucile Powers, Class of 1951, have four children, two of whom have also walked down the Hill, and five grandchildren.
Marian Miller Meeker, fa'45 -- Marian was a music teacher in Kansas City, Kan., Parsons and Jacksonville, Fla., before retiring in 1987. Her husband, the late Robert L. Meeker, was a 1949 KU graduate. While living in Florida, Marilyn added a master's from the University of Florida and served as minister of music in the Congregational Church in Jacksonville for 38 years. She has one son, five grandchildren and two "great-grands."
John F. Mehnert, eng'54 -- After serving in the U.S. Army Corps of Engineers and working as an engineer in the Department of Housing and Urban Development, John is now a consultant in residential structural engineering. He and his wife, Millie, enjoy traveling abroad as well as trips with their travel trailer. The Mehnerts, who live in Lenexa, have three sons, all KU alumni, and three grandchildren.
Max G. Merrill, c'54 -- Max has enjoyed a career at Exxon, working in oil and gas exploration, and he especially enjoyed being based in London for more than eight years while exploring the North Sea. During his career he has been involved in the American Association of Petroleum Geologists, Society of Exploration Geophysicists and the Kansas and Oklahoma Geological Societies. His favorite memories of KU, besides the NCAA championship celebrations, include "fun times" at the Phi Delt house, "partying at the Dine-A-Mite" and geology classes at Lindley. In retirement he enjoys senior tournament golf, travel, photography and the piano. He and his wife, Patricia Jane Harris, ed'53, have two children and four grandchildren.
William E. Michener Jr., b'54 -- Bill retired in 1996 as chief financial officer of Payless Shoe Source, but he rarely saw the home office in Topeka. He traveled the world every month in pursuit of logistics and sourcing, and maintained an office in Taiwan. Now that he and his wife, Nancy, ed'62, are retired, they still enjoy travel, "just not as much." They live in Topeka, where Bill still does some consulting and continues to work on civic and corporate boards. He and his late first wife, Jane Henry Michener, n'59, had two children, both of whom graduated from KU, and four grandchildren, two of whom are students on the Hill.
Charles F. Morelock, j'54, ed'62, g'62 -- After Chuck graduated, he entered the Air Force and was assigned as a writer for the USAF Extensive Course Institute. While serving there, he wrote two textbooks: one rather technical, the other a history of the Air Force in World War II. After his Air Force service, he returned to KU for graduate school and became a teacher in Los Angeles, where he remained until retirement. He and his wife, Virginia, now live in Huntington Beach, Calif. They have two sons, a daughter and four grandchildren. Chuck remembers campus in spring, the ringing of the Campanile bells, the '52 NCAA Championship and life in the fraternity house.
Frank A. Newby, Jr., c'54, Ph.D.'64 -- A retired professor of chemistry, Frank taught at East Tennessee State University. He now enjoys woodworking and his cats. Among his KU memories are the Summerfield scholarship dinners. Highlights of his life since leaving campus are having married Julie about 10 years ago and teaching general chemistry and other senior- and graduate-level courses until his retirement. Frank has four sons and five grandchildren. He and Julie live in Johnson City, Tenn.
Carolyn Nardyz Payne, c'54 -- Carolyn earned her law degree and worked for four years as an elementary teacher before she married Tom, c'52, law'56. She was president of Flint Investment Co. LLC and is now retired. Memories of her years at KU include the basketball championship, dates and parties, the Dine-A-Mite, and banana splits at the Velvet Freeze. Carolyn is a member of several civic clubs and the Delta Gamma alumnae organization. She enjoys travel, reading, visiting antiques shops and collecting art. The Paynes, who live in Stilwell, have three daughters, all KU graduates, and two grandchildren.
Jeanne C. Smith Pearson, ed'48 -- After graduation, Jeanne taught school in California and Utah before beginning a 23-year banking career in loans, mortgages and trusts. She enjoys travel and camping. Before the death of her husband, Donald, c'48, the couple served as volunteer campground hosts around Puget Sound. Remembering KU, she thinks of the campus in spring and of singing with the Women's Glee Club, which performed Verdi's "Requiem" as a World War II memorial. Jeanne has three sons and four grandchildren.
J. "Jack" Edward Pickering, c'54, m'58 -- Jack has a private practice in Bryn Mawr, Pa., where he lives with his wife, Linda, whom he married in 1959. Among the highlights of his career are being a fellow in cardiology at the Hospital of the University of Pennsylvania and being an associate professor of medicine at Thomas Jefferson University, in Philadelphia. The Pickerings enjoy traveling to Europe every year. They have two children.
Joyce Ann Lundry Ramsey, ed'54 -- Joyce and her husband, Robert D. Ramsey, a member of the Class of 1956 who went on to earn thre
Copyright 2017 The Lawrence Journal-World. All rights reserved. This material may not be published, broadcast, rewritten or redistributed. We strive to uphold our values for every story published.