For Tracy Hicks, the 300,000 preserved amphibians at the Kansas University Natural History Museum are more than science; they're art.
For several years, Hicks has been traveling to the museum to make casts of toads and frogs he incorporates into his artwork, which has been exhibited at such museums as the Dallas Museum of Art.
"A lot of people view art and science as being at opposite ends of things," Hicks said. "I'm interested in looking at those and bringing them back together."
Hicks, who lives in Dallas, arrived last week in Lawrence to examine specimens in the KU collection. He'll also give a lecture at 3:30 p.m. Tuesday in the museum's panorama room.
Hicks, 57, typically makes casts of frogs in collections, which he then colors and puts in preservation jars. He usually displays many jars together for an installation art piece.
Originally trained as a goldsmith, the former commercial photographer has been working with amphibians since 1994, when he accompanied a research team to Guatemala. The group found that some frog populations quickly were becoming extinct.
He completed one work using casts from only frogs that had become extinct.
Another recent work dealt with life-and-death issues, he said. It involved sunflower seeds on the floor, stacks of frog casts in jars and a plant on top that had a self-watering system. The plant grew during the time the piece was on display.
Examples of his work can be seen at www.tracyhicks.com.
Hicks said he hoped his art would help people think about conservation and environmental issues.
"I'd rather it be subtle and not have to explain it to people," he said. "I want people to interpret it as they can. It gives me an opportunity to show off a natural history museum and the validity of research that goes on there."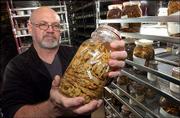 Hicks said he appreciated the size of the KU museum and the variety of its collection.
Linda Trueb, curator of herpetology at the museum, said the collection was the fourth-largest in the world, with a strong collection of Latin American animals.
And she welcomed Hicks' efforts to raise awareness about dwindling amphibian populations.
"Specimens have gone extinct," she said. "We've made repeated visits to the same place where frogs were once really common, and now there aren't any at all."
The frogs' decline in Latin America and elsewhere in the world was a "little red flag" that the introduction of chemicals or other actions done by man are affecting the environment, she said.
"Most people don't know what KU has sitting here," Hicks said. "Anything we can get the word out is great."
Copyright 2018 The Lawrence Journal-World. All rights reserved. This material may not be published, broadcast, rewritten or redistributed. We strive to uphold our values for every story published.